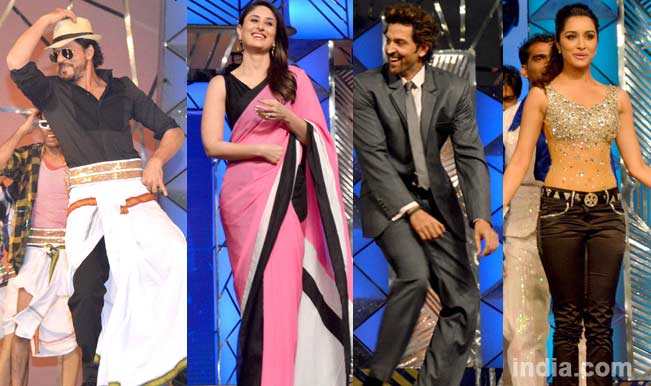 Hrithik Roshan let his hair down at the Umang Police Show 2014, forgetting his recent separation to wife Sussanne Roshan. He truly seemed to be enjoying himself. Also having a ball was Shahrukh Khan, donning a veshti and dancing to Lungi dance from Chennai Express (we assume). He also was seen pataoing the cops, maybe trying to please them after the Wankhede cricket stadium episode! Ranveer Singh made his usual bike entry and danced on stage. Varun Dhawan shook a leg too, and had a car for a prop than a bike.
Sonakshi Sinha looked visibly slimmer on stage – maybe because she was wearing black. Katrina Kaif didn't cut it with a green gown but performed, so did the lovely Shraddha Kapoor.
Meanwhile, Salman Khan and Aamir Khan, who normally join SRK for the Umang show every year, were not seen. Salman reportedly recorded his performance separately. Salman, so much for hugging Shahrukh just a few days before at the Star Guild Awards 2014!
Manish Paul was visible everywhere as an emcee, and so was his TV co-host Kapil Sharma. The two are clearly heading towards overexposure!
Also seen on stage crooning were rivals Himesh Reshammiya, Yo Yo Honey Singh and Mohit Chauhan. In fact, Himesh came in with his girlfriend Sonia Kapoor. Aditya Narayan tried to do a Ranveer Singh shirtless act, but not quite! And oh yeah, Boman Irani strummed a guitar and sang.
Asha Bhosle, Amitabh Bachchan and Sachin Tendulkar shared the stage. But on the ground, we wonder why Sachin and Anjali Tendulkar kept a distance from Shilpa Shetty who shared a sofa with them! Indian Premier League (IPL) rivalry, is it?
Special mention: John Abraham came in dressed casually, very casually – in folded pants, sneakers, sweatshirt and cap! We have no idea if it was before or after a performance. Or is this the state of John after marriage to Priya Runchal?
Check all this action in pictures, right here:
Photos: Publicity Stills
ALSO READ: Filmfare Awards 2014 nominations: Will Shahrukh Khan lose Best Actor to Dhanush?