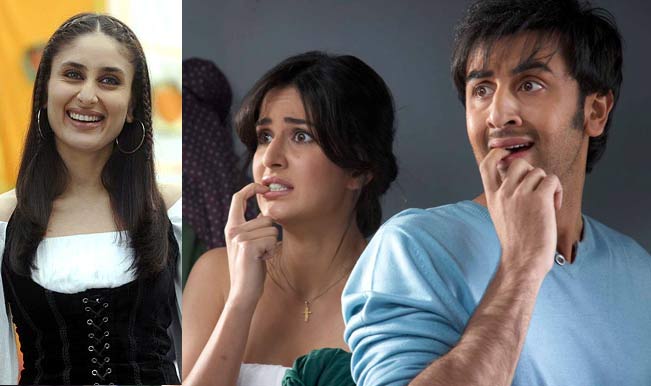 And so Ranbir Kapoor has had another heartbreak! Seems unbelievable, but may be true. What went wrong this time? Like last time when his parents reportedly disapproved of then girlfriend Deepika Padukone, this time too it's a family walah who caused his split with the sweetheart of millions – Katrina Kaif.
It all started on Karan Johar's show Koffee With Karan. Kareena Kapoor Khan could barely control her excitement and announced on national television her preparations for the marriage of Ranbir and Katrina. It looked like an announcement was really on the cards. Is it the talk about their wedding, with Ranbir even blushing in front of Karan and Kareena, that Cool Kat suddenly developed cold feet?
Kareena also confessed on the same show that she had no objection in having a lesbian encounter with Katrina. Though said in jest, this proposal left Katrina worried!
During her Dhoom:3 promotions, Katrina denied any plans of marriage to Ranbir. She did not comment on Kareena's desire for her. The next thing we knew, she flew out for a holiday with Ranbir. Both enjoy partying in NYC, but are rumoured to have had a lovers' tiff in the Big Apple. And that fight might just be heading to a more serious – and impending – split.
Is it just professional reasons that forced the couple to call it quits? Both Ranbir and Katrina are at the peak of their respective Bollywood careers. They are India's sweethearts. Sure, fans of both would want the two happily settled in matrimony. But what would happen to Katrina then? Is she ready to become an Indian bahu and that too, a Kapoor one?
After all, we dunno yet if Ranbir is as cool as his brother-in-law Saif Ali Khan when it comes to letting the woman of the house have a full-fledged career post marriage. In this aspect, Ranboo will most likely follow the chauvinistic Kapoor household rule – the women don't step out. It's something his mom Neetu Kapoor also had to follow for many years, and so did his aunt Babita (Kareena's mom).
The couple have said before that they are special for each other but admitted to dating, hinting they have a more 'friends with benefits' kind of a relationship. (This, after the pics from Spain where the two were on a beach together in swimwear!)
We think 'Marriage? What's that?' is exactly how Ranbir-Kat started their love story. But as the boy is getting more serious – as happens – the girl is also thinking whether she really wants him for 'happily ever after'. Or what if the sister really wants to have fun with her as well? Ahem!
Or a simpler explanation could be that both Ranbir and Katrina simply want the focus of the media to move away from their romance, and so are maintaining a distance in public. But that is making people focus harder! So just behave as if nothing happened, guys, and we will stop bothering you!
As they say Aurat hi aurat ki sabse badi dushman hoti hai!
P.S. Katrina is shooting for Phantom, a film with Kareena's husband Saif Ali Khan.
WATCH: Kareena Kapoor and Ranbir Kapoor on Koffee with Karan Season 4
Disclaimer: This is a fake piece of news and we hope Kareena is not really responsible for the Ranbir-Katrina split!