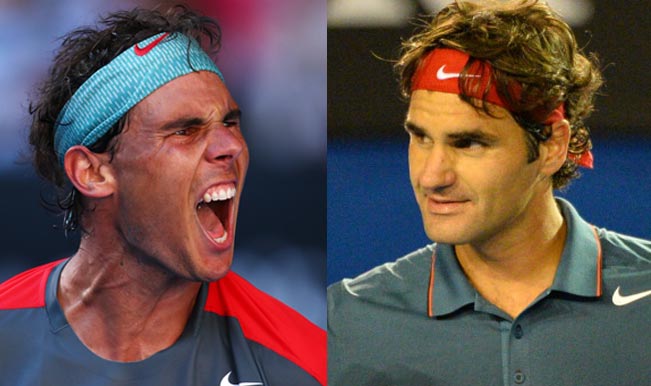 One of the biggest rivalries of the sporting world – Roger Federer vs Rafael Nadal – will come alive when they play on court on January 24 for their Australian Open semifinals clash. These two tennis legend will be meeting for the 33rd time in their career and it will be their 11th showdown in a Grand Slam.
Nadal is leading both all-time as well as Grand Slam battles with a lopsided 22-10 victory over Federer. Though match statistics and numbers back Nadal, but trust us, their matches are beyond numbers and analysis. These fierce rivals on court are great friends off court and it makes their matches a complete delight to watch.
A Roger-Rafa match is the dream match for any true fan. Take a look at the top 10 matches played between them over the last 10 years and you would know why they are called arch-rivals.
Nadal beats Federer in Miami Masters 2004
A 17-year-old Spanish Nadal defeated Federer in their first match in straight sets. This marked the beginning of the biggest rivalry in the coming years.
Nadal defeats Federer in French Open Semifinals 2005
Nadal not only won his first Grand Slam title but stunned the World No. 1 Roger Federer in the semifinals of French Open. Many saw this win as a fluke while Federer blamed the bad lights. But he was impressed by his opponent's play.
Federer beats Nadal in Wimbledon Championships Finals 2006
The Swiss ace showed Nadal his grass court dominance when he defeated him in four sets. With this win he also avenged his loss at the French Open. This was the fourth successive Wimbledon title for Federer and he truly seemed invincible on his favourite court.
Federer beats Nadal in Hamburg Masters 2007 Final
Nadal was the player to beat on the red clay, as he held the record of an 81-match winning streak on clay court. And Federer was the person to do so when he beat Nadal for the first time on the clay court.
Federer wins his fifth title at Wimbledon Championships 2007 Finals

This was the second straight year when these two met for the Wimbledon title. A five-set match, rain delays, maddening crowd; it just could not have got better than this for any finale. Though stretched till the very end Federer remained the winner, smashing Rafa's hopes for his first win at Wimbledon.
Nadal emerges a winner at Wimbledon Championships 2008 Finals 
Whoever said try, try till you succeed must have said it keeping in sight of this match. Nadal finally crossed over the line to dislodge Federer's dominance at the grass court. Another gruelling five setter match was the longest in the history of Wimbledon Championships.
Nadal beats Federer in Australian Open 2009 Finals 
How often do you see one legend cry while the other pacifies him? The 2009 final is considered to be one of the best matches of the era with Nadal winning after another five set match 7–5, 3–6, 7–6(7–3), 3–6, 6–2 against Federer.
Federer comes back at Nadal in the Masters Madrid 2009 Finals
Well you do not mess with the champion! Federer showed him that as he snapped Nadal's five-match winning streak against him and also his continuous 33 victories. He dispatched Nadal in straight sets to show his command over the game.
Another win by Nadal at Australian Open 2012 Semifinals
They met once again on the same turf in the semifinals of Australian Open where Nadal swept past Federer in four sets. With this win, Nadal led Federer 2-0 in the Australian Open clashes.
Nadal won in their last match Cincinnati Quarterfinals
Federer lost his last match against Nadal despite taking the first set. Nadal roared back to take the next two sets to post another emphatic win over Federer. With this win, he registered a win over his favorite rival on all surfaces.
They have dominated tennis for much of the last decade and take the court once again. We do not know who will win the Australian Open 2-14 match, but what we are really sure of is this clash of the titans live up to our expectations.