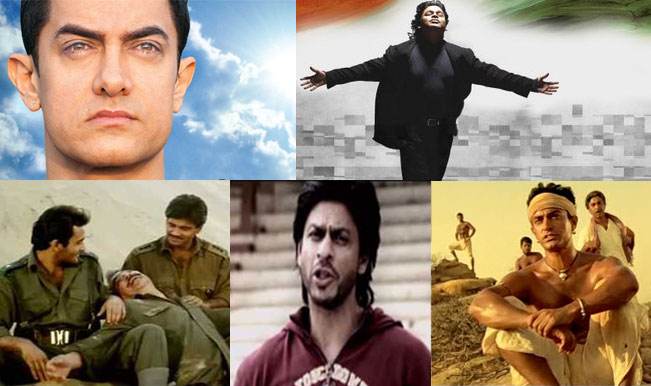 Republic Day is around the corner and you will soon start hearing the familiar classic patriotic songs on radio, television and in neighbourhood homes. But there are a lot of new, modern patriotic songs – from movies like Chak De! India, Lakshya, Rang De Basanti, Sarfarosh and many more, and albums like Vande Mataram – in the last two decades, which are often overshadowed by the unforgettable numbers that have an independence struggle hangover. (ALSO READ: 17 things India must get freedom from this 69th Independence Day!)
Here's a jukebox of some of these songs for the young crowd of India, many of whom are part of the new political revolution in India. Coincidentally, many numbers have been composed by maestro A R Rahman who himself is a symbol of communal harmony.
1. Zindagi Maut Na Ban Jaye – Sarfarosh
This Sonu Nigam number is soulful and was very apt for the Aamir Khan movie that dealt with terrorism.
2. Rang De Basanti Title song
Daler Mehndi peps it up in this energetic song inspired by the classic Mera Rang De Basanti Chola from Shaheed.
 3. Bharat Humko Jaan – Roja
The Kashmir issue was tackled in this Mani Ratnam film. A young couple from south India goes for a honeymoon and the groom is kidnapped by jihadis. This song truly epitomises the spirit of the movie.
Audio:
4. Bombay Theme – Bombay
The Mani Ratnam movie was about the 1992-93 communal riots in Bombay, and this instrumental theme although dedicated to Mumbai reverberated in the entire country.
5. Aisa Des Hai Mera – Veer-Zaara
It was a romantic movie set in the olden times, about cross-border love between an Indian boy (Shahrukh Khan) and Pakistani girl (Preity Zinta). This lovely patriotic song is when the boy is singing paeans to his country, and the girl points out that both their countries are similar. 'Tere des ko maine dekha tere des ko maine jaana, Jaane kyun ye lagta hai mujhko jaana pehchaana', she replies to him. He agrees 'Aisa des hain mera ho, jaise des hain tera'. The lovers compare their respective countries in a positive way promoting harmony.
 6. Satyamev Jayate – Satyamev Jayate TV show

Aamir Khan's first TV show made an impression even before its premiere thanks to the patriotic song composed by Ram Sampath and written by adman and ace lyricist Prasoon Joshi. Satyamev Jayate was on ringtones soon after. Take a look.
7. Maa Tujhe Salaam – A R Rahman's private album Vande Mataram
This was the music maestro's first non-film, private album. He created waves simply by presenting India's favourite Vande Mataram in a modern avatar. The music video, directed by the acclaimed Bharat Bala, also was very popular. Take a look.
 8. Chale Chalo – Lagaan
It's a highly motivational song, as the village bumpkins who have never played cricket prepare for a face-off with the colonial English to beat them in their own game – of cricket.
9. Kuch Kariya – Chak De! India title song
When we saw this song for the first time, we thought it was just a catchy number with a long-haired Shahrukh and his swagger in a hockey stadium. But when we saw the movie, the entire nation including us went berserk and realised the importance of this theme song in the film. Ever since, whenever India wins a match or a game in any sport, Kuch Kariya is sure to be played!
 10. Yeh Jo Des Hai Tera – Swades
Starting with a shehnai-like instrument, nobody expected this A R Rahman song to be so good. It grows on you slowly and kills you. Very apt for a movie like Swades.

 11. Des Rangeela – Fanaa
This peppy patriotic song has a blind Zuni (Kajol) performing to it in a wonderfully choreographed sequence. The movie it is based in, Fanaa, was about the tussle between patriotism and love, with Aamir Khan playing an Indian army soldier who's a traitor.
12. Suno Gaur Se Duniya Walo – Dus
Salman Khan and Sanjay Dutt made singing patriotic songs cool with this number. Suno Gaur Se Duniya Walo, by Shankar Mahadevan, was an instant hit with the youngsters.
13. Rind Posh Maal – Mission Kashmir
This lovely song rendered by Shankar Mahadevan is actually a version of an original Kashmiri song that promotes brotherhood and peace of mind through music.
14. Desh Mere Desh Mere – The Legend Of Bhagat Singh
Mellifluous and smooth, this A R Rahman and Sukhwinder Singh song really sets you in the mood.
15. Sandese Aate Hai  – Border
This song was very popular but it is not just a patriotic but a romantic song for the soldier calling out to his lover and one where he is missing his village and his family. A tear-jerker.
 16. Luka Chuppi (mother's ode) – Rang De Basanti
This heart-rending number from Rang De Basanti will bring a tear to your eye both musically and visually. It's a mother's ode to a pilot son who dies on duty. This is A R Rahman, Lata Mangeshkar and Prasoon Joshi at their best. Must watch!
17. Mera Rang De Basanti – The Legend Of Bhagat Singh
Another inspired Rang De Basanti number, this time rendered by Sonu Nigam to his best. A R Rahman yet again.

18. Phir Bhi Dil Hai Hindustani title song
A movie ahead of its times and a patriotic number, bordering on jingoism, also ahead of the times.
19. Lakshya title song
Boy, did we love this coming-of-age story of Hrithik Roshan. And this song was perfect to depict his state of mind.
20. Mangal Pandey – Title song
This Aamir Khan movie was a flop but the song by Kailash Kher caught on with its drums and catchy tune. It was a tribute to Mangal Pandey, the first Indian revolutionary of the 1857 Sepoy Mutiny or the Uprising of 1857. The song that shows Mangal's walk to the gallows and his hanging and the aftermath has been shot very well. And Aamir's expressions as Mangal look incredible. Check it out!
Photos: Publicity stills | Imaging: Amit Modak
India.com wishes you and all Indians a very Happy Republic Day. For more articles, check out our Republic Day Section.