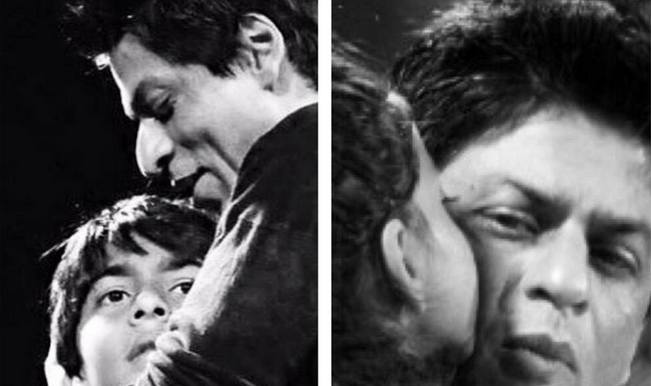 Salman Khan's jadoo ki jhappi aka hug to Shahrukh Khan recently does not seem to have worked in soothing his nerves. The old rivalry was at its peak last week with Jai Ho's release and SRK's accident on the sets of Happy New Year.
The competition and the injury have taken a toll on Shahrukh it seems, and we think he really needs a BEAR HUG! As he nurses his wounds, the actor has been sharing his feelings on social networking as usual.
Today he got rather emotional and shared pics of him hugging children Aryan and Suhana tightly. These are images from the past and we wonder if the kids are not giving enough attention to their sick dad right now – Aryan might be away in London but Suhana, baby AbRam and wifey Gauri Khan are in Mumbai. We wonder what made SRK share this:
Shah Rukh Khan (on FB)
The not too loose or tight philosophy of life doesn't apply to these hugs. These ones tighter the better!!!
After a door fell on him, SRK was treated at the Nanavati Hospital and sent out a statement saying his was fine. He resumed work but then had to take a break again and will start shooting only end of January. The actor's injuries are more serious than he is letting out, it seems. On top of that, Salman acted like a meanie and irked him by saying, 'Shahrukh is fine, concentrate on Jai Ho'!
We think SRK is just irritated and being unwell, needs all the love of his family. Are they by his side? Here's what he also said:
Shah Rukh Khan (on FB)
Been strapped around the joints last few days. Realised the truth of life thru bandages. Not too tight not too loose…keeps it comfortable.
Get well soon, Shahrukh Khan!