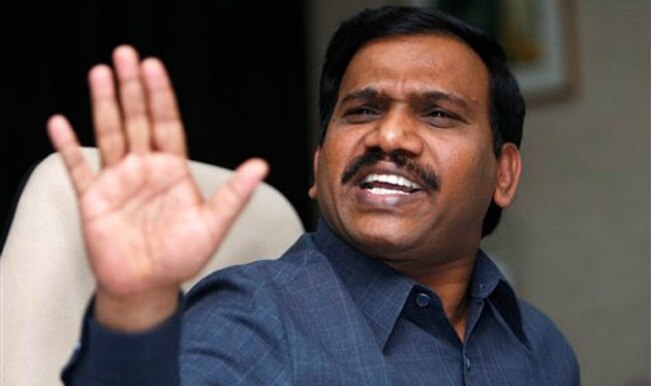 New Delhi, April 1: A charge sheet against former Telecom Minister A Raja and DMK leader Kanimozhi is expected to be filed soon in the 2G spectrum money laundering case being probed by the Enforcement Directorate (ED).
The ED, according to sources, had asked for a legal vetting of the charge sheet by the Law Ministry and all procedures in this regard have been done. The money laundering case pertains to the alleged illegal routing of Rs 200 crore to DMK family-run Kalaignar TV.
The legal opinion to file a charge sheet in this case, sources said, has relied on a 2010 Jharkhand High Court order which validates application of the Prevention of Money Laundering Act in cases prior to its amendment in 2009.
The agency claimed to have found evidence with regard to the channelling of Rs 200 crore to Kalaignar TV through a circuitous route, and relying on the Jharkhand High Court order it has decided to slap the charge of "criminal proceeds" by the act of money laundering against the accused, including the duo, under the PMLA.
The High Court order, relating to Hari Narain Roy vs Union of India, had stated that any money laundering related offences prior to the date of amendment of PMLA can be prosecuted under the said Act. This particular deal of Rs 200 crore pertains to January 2008.
The High Court order, according to sources, has "made it clear and straight" for law enforcement agencies like ED to prosecute any act leading to laundering even if they were committed before June 2009 when PMLA was amended and sections 120-B (criminal conspiracy) and 420 (cheating) of IPC were included as scheduled offences.
Section 3 of PMLA states that "whosoever directly or indirectly attempts to indulge or knowingly assists or knowingly is a party or is actually involved in any process or activity connected with the proceeds of crime and projecting it as untainted property shall be guilty of offence of money laundering."
This order, the sources said, could be cited by the agency to nail Kanimozhi, Raja and other accused in this case.
The agency has already questioned the DMK leader and Raja in this regard.
It had summoned her and others for questioning about the alleged transfer of Rs 200 crore to the TV channel, in which she and Kalaignar TV MD Sharad Kumar each hold 20 per cent stake.
The ED had earlier also scrutinised documents related to both the DMK MPs incomes, properties and personal investments.
It had also initiated attachment proceedings under PMLA against other individuals and certain telecom firms involved in the case.
Besides the cases of Raja and Kanimozhi, similar probe is underway under the provisions of the anti?money laundering Act against Asif Balwa, Director of Kusegaon Fruits and Vegetables Pvt Ltd, Rajeev Agarwal and Karim Murani of Cineyug Films (Pvt) Ltd.