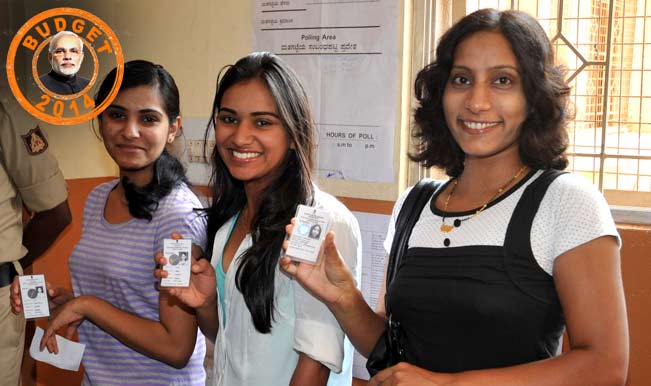 The Narendra Modi-led National Democratic Alliance (NDA) government is all set to present its first budget. The scheduled date for the first budgetary session in parliament is slated to begin from 7th July. Reports suggest that the budgetary session would continue till 14th August and may be extended further, if required.
Now that the budget dates are almost finalised, and with every passing day the Budget date is getting closer, people's expectations with the 'Acche Din Wali Sarkaar' have risen significantly. The budget effects are on people across various sections of society; be it women, students, salaried persons, businessmen, or senior citizens.
As the general budget gets closer every moment, we bring to you a list of expectations the students across the country like to expect from the upcoming budget.
1. Development in entire India and not in parts. The main focus should be on the inclusion of rural India as far as financial policies and their amendments are concerned. Banking services should be increased in the rural areas so that the people living in those areas can reap advantages of banking facilities.
2. Ensure that the existing loss making Public Sector Units (PSUs) are dumped and the funds are relocated to essential PSUs for the development of roads and railways.
3. As most of our income gets utilized in education and housing/loans, tax exemption limit should be increased from the current 2 lakhs.
4. Women's tax slab should be restructured.
5. More investment in Agriculture than Defence sector.
6. The Foreign Direct Investment (FDI) should be increased so as to grow faster.
7. Introduction of a 'women and child budget' which addresses issues of self-esteem and violence against women.
8. The number of ladies compartments should be in increased.
9. Instead of handing out tall promises, the focus should be shifted on concrete measures such as increasing the number of schools. It is pertinent to ensure that the basic amenities are available at the existing schools.
The Parliamentary Affairs committee met on Monday to finalise the dates. Though there is no official announcement of the schedule, the session is to begin on 7th, with Railway Budget to be presented on 8th and Economic survey to be released on 9th. The highly anticipated Modi government's first general budget is slated to be presented on 10th July.
Do let us know in the comments section below what are your expectations from the Budget 2014?