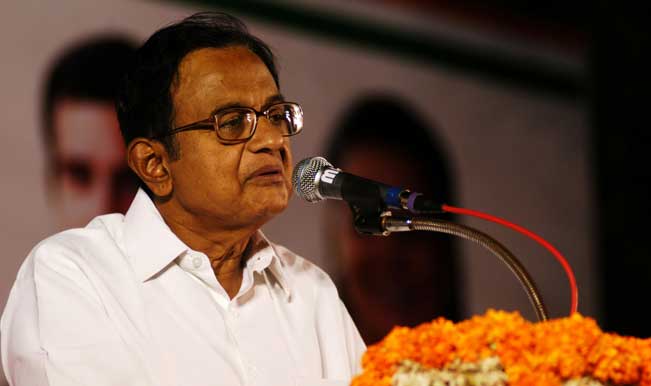 New Delhi, May 2: It's getting personal. Former Finance Minister and BJP leader Yashwant Sinha Friday said Finance Minister P Chidambaram has played "fraud" with union budget and the next government should come out with a white paper to expose his lies.
Sinha's comments came a day after Chidambaram termed the BJP leader's tenure as finance minister the worst since 1991 calling him "mischievious" and ignorant.
"I may have been the worst finance minister after 1991, but I did not commit fraud. Chidambaram has been the cleverest finance minister since 1991 and has played fraud on the budget not only this year but always," Sinha said in a statement.
Sinha said Chidambaram is achieving his fiscal deficit target by "savagely cutting" the plan or productive expenditure of the government.
"He (Chidambaram) has also milked the cash rich PSUs, and forced tax payers to pay more advance tax in financial year 2013-14 which will have to be refunded this year," he said.
Referring media reports Sinha said, Chidambaram has also transferred a subsidy bill of at least Rs.60,000 crore more to the upstream oil companies like ONGC, Oil India and GAIL and a subsidy expenditure of Rs.40.000 crore has been postponed to next year in addition to the payment due for the fourth quarter.
"If I am wrong, let Chidambaram come out with the total subsidy expenditure figures for last year and the actuals which have been paid up to 31st March, 2014," Sinha said.
Addressing a press conference Thursday Chidambaram had said that 2000-2001 and 2002-2003 were the worst years since liberalisation in terms of growth and Prime Minister Vajpayee was forced to replace the finance minister. Yashwant Sinha was the finance minister during that period.
"I thought Shri Sinha would be happy to remain a distant memory for the people of India. However, since he seems determined to remain relevant in his party, I am obliged to recall his record during the four years when he was finance minister," Chidambaram had said.
Sinha criticised Chidambaram for personal attacks. "Instead of challenging me on facts, Chidambaram has decided to attack me personally. Let me remind him that it is not my tenure in the finance ministry which ended twelve years ago, which is in question," he said.
"It is the performance of Chidambaram and (Prime Minister) Manmohan Singh on the economic front which is under question in this election," Sinha added.