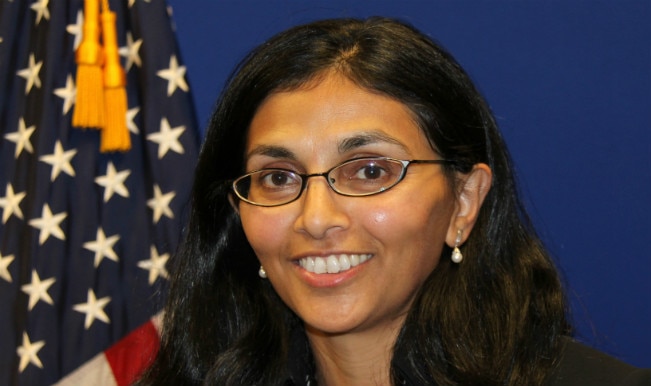 New Delhi, March 6: Amid lingering diplomatic row and frictions over patent laws and visa issue, senior US diplomat Nisha Desai Biswal said Washington is committed and focused on growing trade and investments with India and willing to resolve the difference through talks.
"Like any trading partners, we do have our differences, and the willingness to talk about them indicates that we are in fact confident, mature partners," said Biswal, the US Assistant Secretary of State for South and Central Asia.
Biswal, who is on her first visit to India after she assumed her new office, said: "We want to work with India, trade with and invest in India, innovate with India, and grow with India."
"We need to keep focused on growing our trade and investment ties. The United States are committed to this," she said while addressing an event at the American Center here.
Biswal is the first top-level US official to visit New Delhi after the recent India-US stand-off over the treatment meted out to Indian diplomat Devyani Khobragade in New York. Strip search and arrest of the Indian female diplomat in New York caused a diplomatic row between the two countries.
There have also been frictions over intellectual property rights and restrictions put by US on visa to Indian professionals.
Commerce and Industry Minister Anand Sharma earlier this week said the US is resorting to an "unacceptable protectionism" and creating trade barriers.
Sharma also accused the US of making it hard for Indians to get visa, another protectionist measure hurting the economic engagements between the world's two largest democracies.
Biswal said India and tghe US are addressing the concerns through bilateral talks as well as by discussing these at multilateral fora.
"We are addressing these concerns head-on as good partners do: either bilaterally in our long-established dialogues or multilaterally through the World Trade Organization. Again, the solution is to talk and trade," she said.
Biswal said India needed to bring more transparency in taxation system and ease procedures and regulations for foreign investors doing business.
"We are concerned that domestic content requirements here are discouraging investment into India, inhibiting innovation and holding India back from developing the world-class manufacturing sector it needs to compete and generate jobs for the millions of Indian youth entering the job market," she said.
"Equally important is the need for transparency in India's tax policies, timely regulatory approvals and contract enforcement, and a commitment to strengthening protection of intellectual property rights," Biswal added.