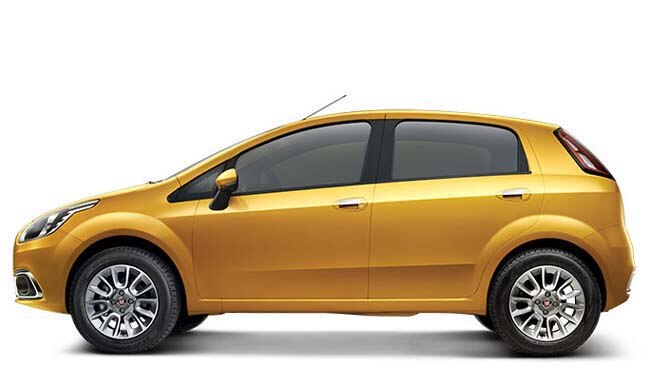 Fiat India has launched the facelift version of the Punto for Rs 4.55 lakh ex-showroom in Delhi. The Fiat Punto looks more petite and has a mean charm to it much like the original Nissan Micra. There are many trim levels available for the Fiat Punto facelift version available in Fiat showrooms.
The major change in the facelift version is the aesthetics of the car with a completely changed look in the front as the car has new headlamps, bumpers and the back gets a new bonnet with LED taillights.
The interiors have a smoother flow with rarely any edges as most of the elements have been given a curvy theme. The pull for chrome has been duly addressed in the Fiat Punto facelift version with ample use of chrome wherever possible without it making the vehicle look ostentatious.
The steering block and the steering wheel remain same as the one from the previous version of the Fiat Punto with the top end variants of the Fiat Punto facelift version also available with 16-inch alloy variants.
A major sign of relief for the Indian customer is that the Fiat Punto gets 195 mm road clearance which is the best in its class so you need not worry about taking an angular approach to the weirdly made speed breakers even if the car is loaded down with passengers and luggage.
170 Maruti Suzuki Swift and Maruti Suzuki Ritz have a ground clearance of 170 mm while the Nissan Micra has a road clearance of just 154 mm. The figures may seem miniscule but they can mean a world of difference while cruising over a pothole and worrying about damaging the car due to a nasty bump.
The Fiat Punto facelift version offers four options when it comes to engine as it was with the old Fiat Punto. The facelift version gets new better tyres for better grip on the road and two new colour options have been added to the color palette – Glitterati Gold and Magnesio Grey.
Here's a look at the cost specified by Fiat India for the facelifted Punto in India-
| | |
| --- | --- |
| Fiat Punto facelift variant | Price (ex-Delhi) |
| Active 1.2 petrol | Rs 4.55 lakh |
| Dynamic 1.2 petrol | Rs 5.12 lakh |
| Emotion 1.2 petrol | Rs 6.65 lakh |
| Active 1.3 diesel | Rs 5.27 lakh |
| Dynamic 1.3 diesel | Rs 6.21 lakh |
| Emotion 1.3 diesel | Rs 6.83 lakh |
| Sport 1.3 93PS diesel | Rs 7.19 lakh |