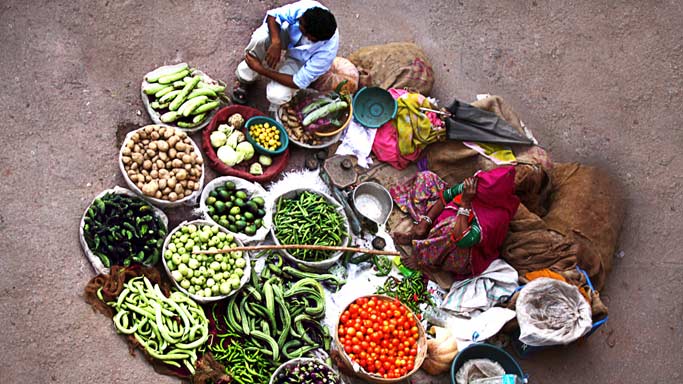 New Delhi, Feb 14: India's wholesale price based inflation fell to 5.05 per cent in January, the lowest level in seven months, on the back of slower increase in food and vegetables prices, the government data showed Friday.
India's main inflation indicator measured in terms of the Wholesale Price Index (WPI) was at 7.31 per cent in the corresponding month of last year and 6.16 percent in December 2013. Food inflation eased to 8.8 per cent in January from a high of 13.68 per cent in the previous month, according to data released by the ministry of commerce and industry here.
Vegetable prices that surged by 57.33 per cent year-on-year in December posted a slower increase of 16.6 per cent in January. Onions became costlier by 6.59 per cent in January after jumping by 39.56 per cent in the previous month year-on-year. Potato price jumped by 21.73 per cent, cereals became costlier by 9.27 per cent, fruits became dearer by 5.32 per cent and milk price rose by 7.22 per cent during the month under review.
However, pulses became cheaper by 6.10 per cent.
Inflation in manufactured products eased to 2.76 per cent and fuel and power inflation dropped to 10.03 per cent during the month under review. The government has kept November WPI inflation data unchanged at 7.52 per cent.
According to data released by the Central Statistics Office (CSO) earlier this week, India's retail inflation based on the Consumer Price Index (CPI) declined to 8.79 per cent in January, the lowest level in two years. Softening in both wholesale and retail inflation would give relief to the economic policymakers, who have been struggling to contain the price rise.
The Reserve Bank of India (RBI) last month hiked key policy interest rates by 0.25 per cent to tame inflation. "It is a good sign that the pace of inflation is finally coming down both at wholesale and retail level. We expect this trend to continue in the coming months giving more elbow room to the RBI for an accommodative interest rate policy," said Rana Kapoor, president of industry lobby Assocham.
Kapoor, who is also chairman Yes Bank, said the RBI must ease monetary policy to revive economic growth.
"An easy interest rate policy would not only create additional demand at the consumer level, it will also bring down substantially cost of borrowing for the industry," he said. IANS