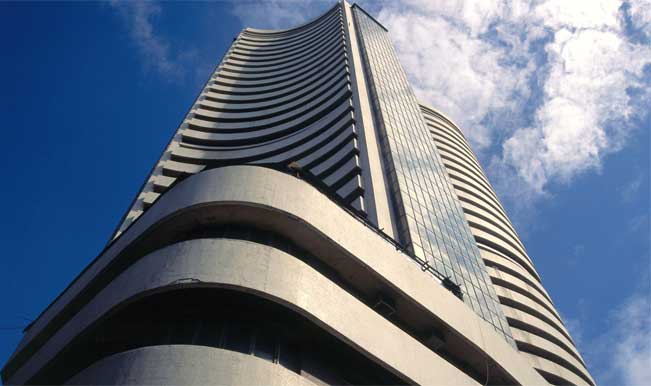 Mumbai, Jul 26 : The market continued its north-bound journey for the second straight week, propelling both the key indices, Sensex and Nifty, to new peaks on buying in IT, tech, FMCG and pharma counters on uninterrupted foreign fund inflows and some robust Q1 earnings. Profit-booking on the last trading day of the week ahead of the expiry of derivatives contracts on July 31 and persisting fears about a spike in oil price due to tension in West Asia and Ukraine weighed on the sentiment as both the indices retreated from their new closing highs.
The market closed in the green on four out of the five trading sessions. Improving macroeconomic indicators, monsoon progress and positive cues from global bourses supported the buoyancy in domestic indices, brokers said. IT shares were in the limelight and at the forefront of the rally on good earnings from tech giants Infosys and TCS, whose numbers exceeded investor expectations, they said. Positive economic data in the US, the biggest outsourcing market for the Indian IT firms, too, aided the upsurge in these stocks.
The S&P BSE Sensex resumed higher and rallied further to a new intra-day peak of 26,300.17 before losing some ground on the last day to settle at 26,126.75, up 485.19 points, or 1.89 per cent, over the last weekend close. Last week, the 30-share index had zoomed 617.21 points, or 2.47 per cent. Similarly, the broad-based 50-issue CNX Nifty of the National Stock Exchange logged its intra-trade historic high of 7,840.95 before finishing the week at 7,790.45, posting a rise of 126.55 points, or 1.65 per cent.
The Sensex has vaulted 24 per cent this year so far, recording the best gains among major global markets, as FIIs have pumped USD 12 billion in Indian shares till date in 2014. FIIs injected Rs 1,948.01 crore during the just concluded week, including provisional data of July 25. The Government's reform push also contributed to the stupendous rally. The Cabinet on Thursday gave go-ahead to FDI cap hike in insurance to 49 per cent, paving the way for inflow of as much as Rs 25,000-crore foreign funds in the sector.
On Wednesday, the FII limit for investment in Government securities was hiked by USD 5 billion within the total cap of USD 30 billion. The step is expected to attract more funds from overseas investors. Besides, the Government may soon take a decision on easing FDI norms in Railway and defence sector. On the overseas front, positive global cues after strong Chinese manufacturing data, too, kept the sentiment on a firm footing. European markets also showed firm trend after data indicated improved growth in euro-area manufacturing and services sector this month.
The market is looking for the outcome of a two-day US Federal Open Market Committee (FOMC) monetary policy review which concludes on July 30. The market may remain volatile next week ahead of expiry of July F&O contracts as traders preferred to roll over their positions to August 2014 series. Foreign Portfolio Investors (FPIs) investments, trend in global markets, movement of the rupee against the dollar, crude oil prices and progress of monsoon will be closely watched for further direction. The BSE and NSE will remain shut on July 29 on the occasion of 'Ramzan Id'.
Jignesh Chaudhary, Head of Research, Veracity Broking Services said, "The Indian Equity markets were positive in the entire trading week, on the last trading week there was some profit booking which was observed which gave some corrections. In the coming days there are earning scheduled for some major blue chips which are expected to affect the market moving. "The Economic Calendar will be very active the coming trading week has major data release for US Economy and all are expected to be positive and would be strong for USD so that might affect the markets."
"The Trading Technical's are suggesting Positive trend for the Indian Equity Markets in the coming week so the BSE Sensex is expected to trade in the range of 26,131 to 26,296 and CNX Nifty is expected to trade in the range of 7788 to 7837," he added.From the Sensex pack, HDFC flared up by 8.49 per cent, TCS 6.64 per cent, HUL 6.43 per cent, Bharti Airtel 5.49 per cent, Sun Pharma 4.98 per cent, RIL 4.61 per cent, Hindalco 3.93 per cent, Dr Reddy's Lab 3.84 per cent, ITC 3.76 per cent, Infosys 3.05 per cent, Hero MotoCorp 2.65 per cent, M&M 2.23 per cent and Bajaj Auto 1.04 per cent.
However, BHEL dipped by 4.66 per cent, Tata Power 4.63 per cent, Gail India 3.91 per cent, Tata Motors 3.51 per cent, SBI 2.35 per cent, ONGC 2.31 per cent, SSLT 2.06 per cent and L&T 1.76 per cent. Among the S&P BSE sectoral indices, IT shot up by 4.14 per cent, Teck 3.66 per cent, FMCG 3.57 per cent and HC 2.57 per cent, while Power dropped by 3.36 per cent, Realty 2.84 per cent and CG 2.23 per cent.
The S&P BSE small-cap and mid-cap indices declined by 1.41 per cent and 0.81 per cent respectively and underperformed the Sensex on heavy profit-booking by wary retail investors. The total turnover on the BSE and NSE during the week were at Rs 15,645.76 crore and Rs 80,500.22 crore from Rs 16,239.75 crore and Rs 78,781.31 crore respectively last weekend. Forex: The rupee broke its two-week of losing streak and appreciated by 18 paise to close at 60.10 against the American currency during the week under review following bullish local equities amid fresh dollar selling by exporters. Continued capital inflows also aided the rupee recovery.
At the Interbank Foreign Exchange (Forex) market, the domestic unit commenced slightly better at 60.25 a dollar from last weekend's close of 60.28 and dropped to a low of 60.3250 on dollar demand from importers, mainly oil refiners, to meet their month-end requirements. However, it later bounced back to breach 60-mark to a high of 59.98 on strong equities and fresh dollar offloading by exporters before settling the week at 60.10, exhibiting a rise of 18 paise or 0.30 pct.
In last two-weeks, it had plunged by 56 paise or 0.94 pct. The Indian benchmark S&P BSE Sensex flared up by 485.19 points or 1.89 pct in the week while FIIs infused USD 302.96 mln on the first four days of the week, as per Sebi data.
Pramit Brahmbhatt, Veracity Group CEO said,"Rupee continued to trade range bound this week, though it managed to appreciate on weekly basis taking cues from strong local equities which posted its new all time high. Rupee is likely to trade range bound as investors are trading cautiously and are waiting for the RBIs credit policy scheduled on 5th August, which will help them to judge the markets."
"Next week Rupee is expected to trade under pressure as dollar demand from oil importers will force rupee to depreciate. The rise in local equities with the help of FIIs may support rupee to fight against the mighty. The trading range for the Spot USD/INR pair is expected to be within 59.60 to 60.50," he added. "Recommended to be cautious and Buy USDINR (Futures) on dips with appropriate stop loss as overall Rupee is expected to depreciate. Pivot Point for the Pair is at 60.10 and below is the Support & Resistance levels," he further commented.
Forward dollar premiums continued its downslide on persistent receipts by exporters. The benchmark six-month forward dollar premium payable in December dropped to 217-219 paise from 225.5-227.5 paise last weekend and far-forward contracts maturing in June 2015 also declined to 466-468 paise from 469.5-471.5 paise. The RBI fixed the reference rate for the USD at 60.1448 and the euro at 80.0173 from 60.33 and 81.5848 previous week end. The rupee recovered against the pound Sterling to end the week at 102.05 from 103.03 preceding weekend and also bounced back to 58.98 per 100 Japanese yen from 59.49. It shot up against the euro to settle at 80.80 from last weekend's close of 81.55.