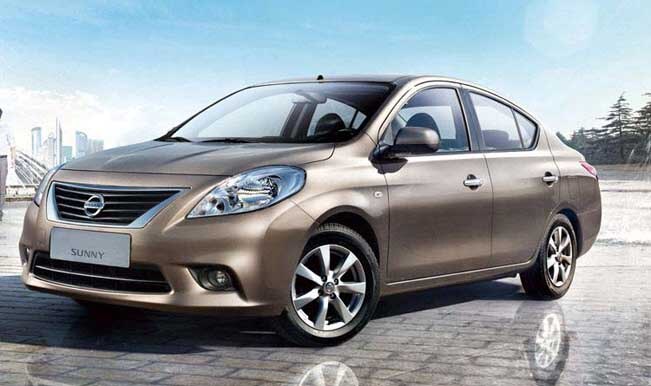 Mumbai, Jul 3: Japanese car maker Nissan, which rolled out a new model of its mid-size sedan Sunny, both in petrol and diesel variants priced between Rs 7.29 and 10.22 lakh (ex-showroom Mumbai) said here today that it plans to introduce a new segment in India.
Nissan also plans to introduce Datsun Go+ by this year in addition to a refreshed model of Evalia and said that it would scale up its dealership network to 200 by December, Nissan Motor Corporation Chief Planning Officer Andy Palmer told reporters here.
"There are three cars in our forthcoming portfolio where Indian customers are lead customers. One category of cars we are working on for India does not exist today," Palmer said, without divulging details.
He said that India is a key strategic growth market for Nissan and it continues to monitor its evolution closely to ensure that its expanding product portfolio fits regional needs.
"The new Sunny is our answer that responds to changing demands and desires," he said.
Nissan had launched Sunny for the first time in the Indian market in 2011.
It had reported a 48 per cent increase in sales at 4,362 units in June this year, as against 2,949 vehicles sold during the same period last year.
Of this Datsun Go contributed 1,097 units to its overall sales. The Datsun brand made a global comeback in March this year, with the company launching its entry level car 'Datsun Go' in India.
"In QI of this fiscal, we have grown by 142 per cent and it is true that some of this growth has come from Datsun, which gives us an average of around 2000 units a month, but we also see organic growth in the Nissan brand as well," Palmer said.
"We will launch DatsonGo+ within this calender year and also introduce a refurbished Evalia in the Indian market," he said, without giving any timeline for the rollout of the refurbished Evalia."We are looking at doubling volumes in India with Sunny and a refreshed model of Evalia," he said, adding that at this stage Nissan covers more than 90 per cent of customers in India and aims to have 200 dealerships by this year.Stating that aspirations of Indian sedan customers had evolved since Sunny was launched, Nissan India Operations President Kenichiro Yomura said that the new model would strengthen Nissan's presence in this "crucially important and growing segment".
The new Sunny comes in eight variants, with six colour options.
Sounding optimistic about Nissan's growth in India this year, Yomura said, "The good news is that there is a very pro-business and pro-investment strong leader. We expect growth coming back to normal".
"This market is very competitive and customers (are) demanding. They want vehicles which are not only fuel efficient but very spacious as well and we are adjusting to cater to their (Indian customers) requirements," he said.