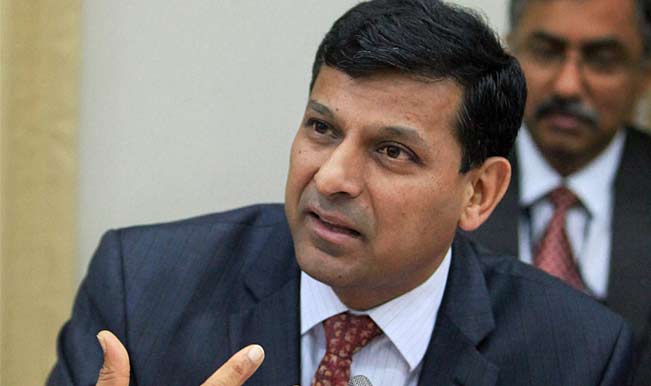 Washington, Apr 11: India's central bank chief on Thursday proposed a new independent assessor to warn of international spillovers from unconventional monetary policy after Western crisis measures wreaked havoc in emerging economies.
Reserve Bank of India governor Raghuram Rajan, who presciently warned of risks ahead of the 2008 global meltdown, also endorsed calls for a stronger safety net from the International Monetary Fund to provide liquidity access to vulnerable countries.
Rajan voiced alarm over the lack of protection for emerging countries that witnessed rapid inflows of capital when industrial nations maintained ultra-low interest rates and then faced swift pullouts as emergency policies eased last year.
"When the tide goes out, those countries are found swimming naked," Rajan told the Brookings Institution in Washington on the sidelines of annual IMF/World Bank spring meetings.
The Indian rupee in August tumbled to an all-time low before rebounding over signals that the US Federal Reserve would taper its easy monetary policy that had injected hundreds of billions of dollars into the system to revive the economy.
Rajan, a former chief IMF economist, insisted that India was now well-buffered and that his proposal was looking more generally at the global system. He linked past crises, including in Argentina in 2001 and Mexico in 1994, partially to industrial nations' interest rate policies.
Rajan said that his proposed independent assessor would scrutinize monetary policies where "the benefits are largely domestic, while the costs fall largely abroad."
"Perhaps following a complaint by an impacted country, as in the WTO (World Trade Organization), the independent assessor could analyze the effects of such policies and come to a judgment on whether they follow the rules of the game," Rajan said.
"If the assessor deems the policy reduces global welfare, international pressure should be applied to stop such policies," said Rajan, who is on leave as a professor at the University of Chicago.
But Rajan acknowledged that his proposal may be politically unrealistic, saying it could be difficult to enforce any judgments or to find an assessor who is immune from outside pressure.
Rajan said that a "more modest proposal" would be for central banks to agree to pay closer attention to spillover effects.
He said that emerging nations managed to avoid disruption when the Federal Reserve postponed tapering throughout last year until December. But he faulted the Fed for not mentioning international concerns in a later policy statement.
Rajan also endorsed a call for a Global Stability Mechanism and Short-Term Liquidity Line at the IMF, saying it should focus on countries that cannot fall back on their own liquidity arrangements.
A critical reaction
The Group of 24 developing countries issued a statement along similar lines, urging advanced economies to "mitigate adverse spillover effects" while doing more to stimulate global demand.
But Ben Bernanke, who served as Federal Reserve chairman during the economic crisis and left in February after winding down emergency measures, listened to Rajan's speech and offered a brief critique.
Bernanke said there was already an "awful lot of consultation," noting that he or the Fed vice chair would meet eight or 10 times a year with emerging nations' central bankers.
Bernanke asked Rajan to consider the effects on emerging economies if developed nations had not taken unconventional measures to begin with.
European Central Bank vice president Vitor Constancio offered a similar criticism and said that emerging economies had to accept some level of currency depreciation for industrial nations to return to solid growth.
"What would have happened if the first economies had not pursued such expansionary monetary policies after 2009? I think the world would be in a worse position than what it is," he said.