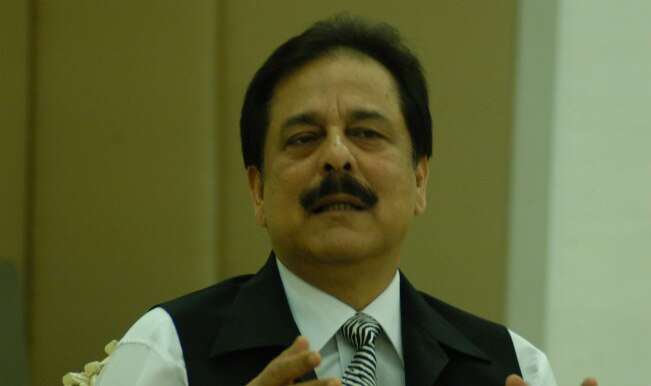 Amidst high drama, Sahara India Chief Subrata Roy was finally arrested on February 28, two days after Supreme Court ordered his arrest over the delay in payment of 20,000 crore to his company's investors. We bring to you the all ups and downs of Sahara boss Subrata Roy.
65 years old Subrata Roy is one of India's most flamboyant and enigmatic business tycoons. He founded Sahara Group in 1978 with chit funds with initial asset base of just Rs.2000. But now he is the chairman of the Sahara India Pariwar; the group, worth 682bn rupees ($11bn; £6.6bn), has businesses ranging from finance, housing, manufacturing, aviation and the media. It also has interests overseas – it owns New York's landmark Plaza Hotel and London's iconic Grosvenor House. Apart from this his group also sponsors the Indian hockey team and owns a stake in Formula One racing team, Force India.
Apart from business Subrata Roy also draws media attention because of colourful lifestyle. He counts Bollywood superstar Amitabh Bachchan among his friends and former British Prime Minister Tony Blair. At the wedding of Mr Roy's two sons in 2004, it is said to have cost $128 million, one of the most expensive ever. Over 10,000 guests were invited – a veritable A-list of India's power set, including business moguls, Bollywood idols, cricket stars and fashionistas – were airlifted to Lucknow by special chartered planes. Then Prime Minister Atal Bihari Vajpayee attended the wedding
But this was all about past. Now Subrata Roy is in police custody. Whatever name, fame and money he has gained, it's now under threat. But why Subrata Roy is in trouble? Here is the answer.
It all began in 2010; The Security and Exchange Board of India (SEBI) probe found that two Sahara firms; Indian Real State Corporation and Sahara Housing Investment Corporation collected money through illegal bonds. SEBI restricted the promoters and directors of Sahara group companies. After two years on August 31st 2012, Supreme Court ordered Sahara to return 24,000 crore and 15% interest to its millions of investors within three months. However, on December 5 2012, Supreme Court allowed Sahara to pay whole amount in three instalments-5,120 crore immediately, 10,000 crore in January 2013 and remaining amount by February 2013.
Although, Sahara paid the first installment. But by February they failed to pay second and third installment. SEBI after getting permission from Supreme Court froze all  bank and Demat accounts and attaches properties of chief Subrata Roy and three directors. On October 28 2013, Supreme Court directed Sahara to submit title deeds of properties worth Rs.20,000 crore to SEBI.
Later, Supreme Court bard Subrata Roy and three directors from leaving the country. February 20 2014, Supreme Court directed Subrata Roy to appear before it on February 26. But Subrata Roy did not appear then on 26 Supreme Court issued non-bail-able arrest warrant against Subrata Roy. Subrata Roy surrendered before the Lucknow police on February 28.
This is the brief journey of Subrata Roy from Priwar to Karagrah.