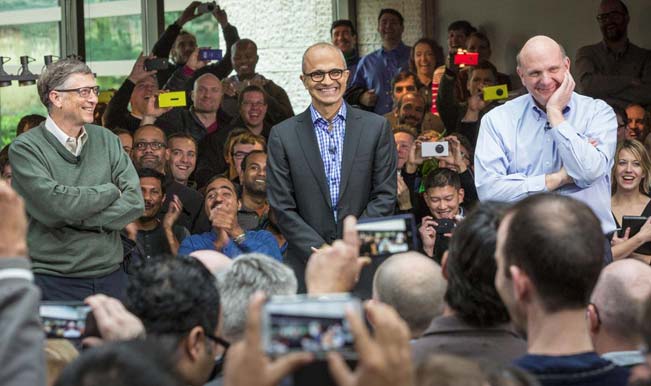 By Parveen Chopra
The headline grabbing news of Satya Nadella taking over as CEO of Microsoft has also underscored the exceptional success of Indian Americans in technology and management.
Just like every inventor stands on the shoulders of numerous others before him who made  incremental but small improvements and innovations in a certain field, the Hyderabad-born Nadella walking into the shoes once occupied by Bill Gates has indeed come about at a time when many, many other Indian Americans have already broken through the glass ceiling in diverse fields from politics to entertainment, technology in particular.
That one other frontrunner for heading the world's biggest software company was Sundar Pichai, senior vice president, Android, Chrome & Apps, at Google, reflects the available pool of Indian talent already populating the higher echelons of management. Take Google, where its 13-member management team has three other Indians besides Pichai. The pattern is repeated in company after technology company like Cisco, where Padmasree Warrior  is CTO, and Intel. Not surprising then that the distinction of becoming the first chief technology officer of US went to an Indian American, Aneesh Chopra, who served from 2009-2012.
So what is the secret of success of Indians in hi-tech and management?
The large number of Indians who moved to the US for higher education in the past couple of decades have risen up the ranks, and in some cases rapidly because they came with the excellent background of institutions like the IITs. Crucially, in the recent years they have been able to break the stereotype that they only made good low-level programmers and engineers but were not capable of becoming managers — certainly not CEOs.
So how was the Rubicon crossed?  Vivek Wadhwa, an academic-entrepreneur and commentator on the rise of Indians in America, ventured some answers in a recent interview with Bloomberg TV and in op-eds. In Silicon Valley, which is a giant network and fiercely competitive, Indians succeeded by playing by the rules of engagement, he proffers. They supported each other — to the extent of providing seed funding to others of their community — and offered mentorship. They were not averse to taking risks. Many became visible, vocal role models. Some early tech entrepreneurs and venture capitalists like Vinod Khosla, Vinod Dham, Kanwal Rekhi and Gurbaksh Chahal are legends – and not just in the Indian community. Today, Indians, who constitute only 6 per cent of the working population of Silicon Valley, the most innovative enclave on earth, start roughly 15 per cent of its companies. Indians also account for 16 per cent all startups nationally in America.
That Microsoft had no senior Indian executives until the 1990s and had to tap Nadella now to lead it at a time when its core market — the Personal Computer — is shrinking, chipped away by tablets and smart phones predominantly running on Android and iOS, shows the transformation of the business landscape in America.
Wadhwa recounts the story of Vijay Vashee, who when inducted into Microsoft in 1982 was just one of two Indians at the 160-person company. Over the years it added several more Indian recruits, mostly IITians, but they held low-level technical positions (now we call them techies). Vashee became the first Indian to break through Microsoft's glass ceiling in 1988 when he was named general manager for the Microsoft Project. In 1992, he was asked to head the fledgeling PowerPoint Division and helped grow it from a $100 million to a billion dollar business.
Not to be discounted is the cascading effect from India. Almost every tech major has set up an R&D centre in India, whose tech talent was thrown into sharp relief starting with the Y2K scare of 2000-2001.  Many of these R&D centers have become key hubs for those companies, enabling movement of technology executives between India and the US headquarters.
"India has become a breeding ground for global talent. Just over the past two weeks we were discussing how to create more global leaders out of here," Sarv Saravanan, senior vice president and MD of EMC India's R&D Centre was quoted as saying in a recent report in an Indian financial daily. EMC Corporation is the USD 22-billion data storage, analytics and cloud computing company.
Globally now the Indian way of management is also winning accolades. There was a time when Britain's Prince Philip, while touring a factory near Edinburgh in 2002, said that a fuse box was so crude it "looked as though it had been put in by an Indian". Fast forward to 2014. Lord John Prescott, former British deputy prime minister between 1997 and 2007, in an article praised Tata Motors' turnaround of Jaguar / Land Rover to expose the inadequacy of managerial ability in Britain, which had much to learn from the "Indian Way" of doing business. He supported his argument by referring to Nadella's appointment. "Satya didn't hold a press conference to tell everyone how great he was. He held discussions with his employees about the Indian Way. It is meant to give companies a 'broader social purpose'," he said
Truth be told, Satya Nadella is a perfect fit for the job. The 47-year-old who has been with Microsoft for 22 years was heading the fast-growing and highly profitable enterprise-computing unit. In the last fiscal year, his division generated USD 8.2 billion in operating income (about a third of Microsoft Corporation's total income) and revenues of USD 20.3 billion (about a fourth of the total revenue of the company).  He is well placed to lead the company in an era of cloud computing.
Nadella, for now, has surpassed all other Indian executives in terms of influence and prestige by becoming the most powerful Indian-born tech executive in the world. But the trail  was blazed by some other high profile CEOs — Indra Nooyi (PepsiCo),  Ajay Banga (MasterCard), and Anshu Jain (Deutsche Bank), to name  a few.