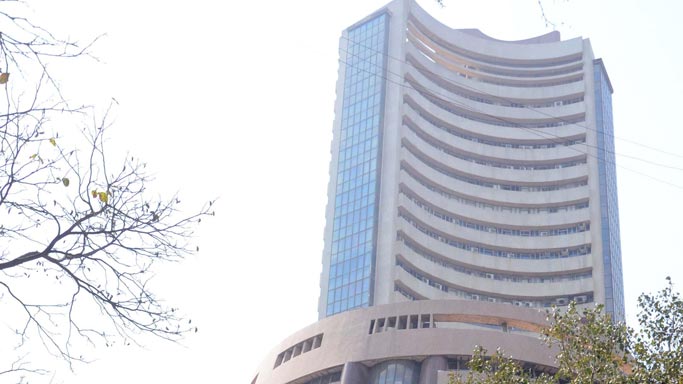 Mumbai, Jun 23: A benchmark index of the Indian stock markets closed on Monday's trade 74 points or 0.30 percent down on selling pressure in fast moving consumer goods (FMCG) and information technology (IT) scrips. This is the fourth straight session of fall for the markets which closed 96.29 points or 0.38 percent down at 25,105.51 points Friday.
The 30-scrip S&P Sensex (sensitive index) of the Bombay Stock Exchange (BSE), which opened at 25,108.09 points, closed the trade at 25,031.32 points, down 74.19 points or 0.30 percent from its previous day's close at 25,105.51 points.
The Sensex touched a high of 25,197.50 points and a low of 24,878.66 points intra-day. The markets were cautious amidst weak global cues as a result of the worsening security situation in Iraq with crude oil prices scaling up.
The wider 50-scrip S&P CNX Nifty of the National Stock Exchange (NSE) also ended Monday's trade in the red. It closed 18.10 points or 0.24 percent down at 7,493.35 points. There was selling pressure on BSE FMCG, IT, consumer durables and technology, entertainment and media (TECK) stocks.
The BSE FMCG index fell 277.47 points, while IT index which dropped 142.75 points, consumer durables index that slipped 76.39 points and TECK index lost 57.86 points.
However, power index was up 158.41 points, metal index gained 146.23 points, automobile index increased by 108.92 points, capital goods index was up 85.05 points and bank index rose 76.27 points.
The major Sensex gainers were: ONGC, up 4.63 percent at Rs.437.05; Hero MotoCorp, up 2.38 percent at Rs.2,580.10; BHEL, up 2.26 percent at Rs.244.35; Sesa Sterlite, up 1.80 percent at Rs.297.05; and Mahindra and Mahindra, up 1.45 percent at Rs.1,158.50.
The losers were: ITC, down 6.50 percent at Rs.314.05; Infosys, 2.55 percent at RS.3,231.05; Hindustan Unilever, down 1.03 percent at Rs.617.25; Tata Consultancy Services (TCS), down 0.95 percent at Rs.2,264.75; and Wipro, down 0.93 percent at Rs.531.35.
Among the Asian markets, Japan's Nikkei closed 0.13 percent up, while China's Shanghai Composite Index ended 0.11 percent lower and Hong Kong's Hang Seng lost 1.68 percent.
In Europe, London's FTSE 100 was trading 0.35 percent down and Germany's DAX Index was lower by 0.32 percent, while the French CAC 40 Index lost 0.38 percent at the closing bell here.