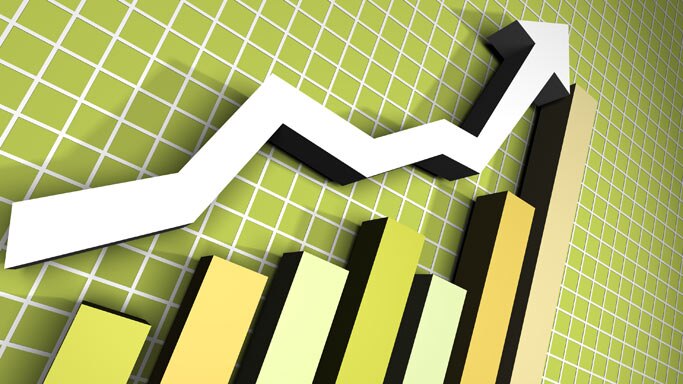 Mumbai, Feb 25: The Bombay Stock Exchange benchmark Sensex gained 41 points on Tuesday to settle at a fresh one-month high of 20,852.47 on buying in IT, capital goods and FMCG stocks, extending the winning streak to the third day.
IT major Wipro was the biggest Sensex gainer at 2.95 per cent, followed by Bajaj Auto at 2.14 per cent. IT stocks were in demand with Infosys trading near its all-time high level of Rs 3,782 apiece, traders said.
Markets may remain volatile in the coming few days ahead of Futures and Options expiry on Thursday, they said. After resuming higher, the Sensex touched day's high of 20,912.54 but settled at 20,852.47, a rise of 41.03 points from its last close. It has gained 315.83 points or 1.54 per cent in the last three trading days.
The 50-share Nifty on NSE also firmed up by 13.95 points or 0.23 per cent to finish at 6,200.05. Bharat Heavy Electricals Limited (BHEL) at 1.92 per cent, Cipla 1.90 at per cent, Bharti Airtel at 1.57 per cent Hindalco Industries and 1.39 per cent were some other big Sensex gainers.
Among the sectoral indices, consumer durables was the top gainer, up by 2.98 per cent, followed by IT and Technology, up by more than 0.80 per cent each. Auto and capital goods were up by over half a perc ent each. Metal was the top loser, down by 1.85 per cent.
Jignesh Chaudhary, Head of Research, Veracity Broking Services, said it was a mixed day of trading which started on a positive note, but slipped to to the negative terrain. It recovered from Tuesday's low to close on a positive note towards the end of the trading session.
"There was selling pressure ahead of the expiry which created some stress," he added. Of the 30-share Sensex, 15 finished lower, while 14 ended higher. ONGC ruled steady.
SSLT fell by 2.26 per cent, Coal India 2.26 per cent, Tata Steel 2.25 per cent, Tata Power 2.06 per cent, Gail India 1.50 per cent and NTPC 1.07 per cent. Market breadth turned lower as 1,341 finished lower, 1,317 ended higher and 162 ruled steady. The market turnover fell to Rs 1,846.94 crores from Rs 1,903.67 crores on Monday.
Foreign institutional investors (FIIs) bought shares worth a net Rs 266.87 crore yesterday, as per provisional data available with stock exchanges. Asian stocks showed a mixed trend. Key indices in Japan, Taiwan and South Korea firmed up by 0.18-1.44 per cent, while Chinese stocks fell by 2.04 per cent. Indices in Hong Kong and Singapore eased by 0.05-0.32 per cent.
European markets were trading lower. Key benchmark indices in the UK, Germany and France declined by 0.48-0.56 per cent. PTI