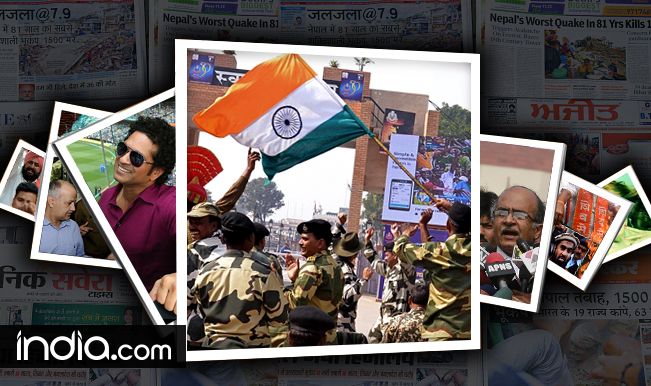 Mumbai, Apr 25: A benchmark index of Indian equities markets Friday closed 188.47 points or 0.82 percent down due to selling pressure in oil and gas and capital goods sectors.
The 30-scrip S&P Sensex of the Bombay Stock Exchange (BSE), which opened at 22,892.50 points, closed at 22,688.07 points, down 188.47 points or 0.82 percent from its previous day's close at 22,876.54 points.
The Sensex touched a high of 22,939.31 points and a low of 22,656.64 points intra-day.
The S&P BSE oil and gas index slumped by 206.69 points, capital goods index dropped by 171.62 points, bankex went down by 101.75 points and FMCG index slipped by 140.94 points.
The wider 50-scrip Nifty of the National Stock Exchange (NSE) closed trade 58.05 points or 0.85 percent down at 6,782.75 points.
Major Sensex gainers were: Mahindra & Mahindra, up 3.23 percent at Rs.1070.25; Dr.Reddy's Lab, up 2.36 percent at Rs.2,625.95; and HDFC, up 1.62 percent at Rs.892.35.
Major Sensex losers were: ITC, down 2.76 percent at Rs.343.60; NTPC, down 2.74 percent at Rs.118.80; Hindustan Unilever, down 2.58 percent at Rs.580.70; and ICICI Bank, down 2.29 percent at Rs.1,269.30.
Among the Asian markets, Japan's Nikkei closed at 0.17 percent up; China's Shanghai Composite Index was lower by one percent while Hong Kong's Hang Seng was down by 1.50 percent.
In Europe, London's FTSE 100 was trading 0.30 percent down, Germany's DAX Index was down 1.06 percent and the French CAC 40 Index was down by 0.35 percent.