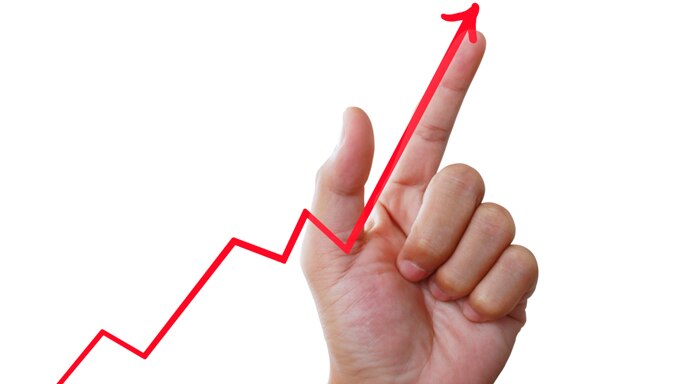 Mumbai, Feb 17:  In a lacklustre trade on the presentation of Interim Budget ahead of upcoming elections by the Finance Minister today, the benchmark S&P BSE sensex rallied further by 97 points to close at 20,464.06 on firm gloal gues.
Finance Minister P Chidambaram in the interim budget presented today in parliament hoped to contain the budget deficit at 4.6 pct of GDP for the current financial year and current account deficit (CAD) at USD 45 billion this financial year, boosted the market sentiment.
The FM also added that the economy is more stable than what it was two years ago following several steps taken by the government and the growth will be higher in the second half of the fiscal.
Banking, auto, power and pharma shares attracted good buying support whiel shares from realty, consumer durable and metal suffered with losses on profit-booking. The Bombay Stock Exchange 30-share barometer moved most of the day in positive terrain in a range of over 150 points before settling at two-week high of 20,464.06, up by 97.24 points or 0.48 pct. Last time, it had closed at 20513.85 on January 31, 2014.
The wide-based CNX Nifty of the NSE also rose by 24.95 points or 0.41 pct to 6,073.30. Asian stocks closed higher after China's new credit increased to a record in January, boosting optimism the world's second-largest economy can maintain its growth momentum. Key benchmark indices in China, Hong Kong, South Korea, Taiwan, Japan and Singapore rose by 0.07 pct to 1.07 pct.
European markets were trading higher in their early trade as indices in France, Germany and UK firmed up by 0.09 pct to 0.95 pct. Mr. Jignesh Chaudhary, Head of Research, Veracity Broking Services said,"Indian Equity Markets was pretty much decent even on the day of Interim Budget. Today the budget was much in line with expectations from Mr. P. Chidambaram. The automobile sector jumped highest today as there was excise duty cut proposed in the budget to boost the sales in the slow developing economy."
"There was also a major growth which was observed in the Banking Sector due to which majority of the banks were also amongst the highest gainers in the market today," he added. Turning to the local market, 20 scrips out of the 30-share sensex ended higher while remaining closed lower.
Major gainers were Tata Power (4.81 pct), M&M (2.83 pct) , Dr Reddy's Lab (2.45 pct), Icici Bank (2.13 pct), Hero Moto (1.99 pct), Maruti Suzuki (1.38 pct), HDFC Bank (1.37 pct), HDFC (1.15 pct), Axis Bank (1.15 pct) and NTPC (1.10 pct). However, Coal India fell by 1.59 pct, Hindalco 1.35 pct, and RIL 1.22 pct.
Among the S&P BSE sectoral indices, bankex rose by 1.21 pct followed by Power 0.96 pct, Auto 0.76 pct and Halthcare 0.67 pct while Realty fell by 0.82 pct, Consumer Durable 0.73 pct and Metal 0.71 pct. Market breadth remained negative as 1,373 stocks ended in the red, 1,235 stocks finished in the green and 157 ruled steady. The total turnover fell to Rs 1,524.26 crores from Rs 1,732.10 crore on last Friday. PTI