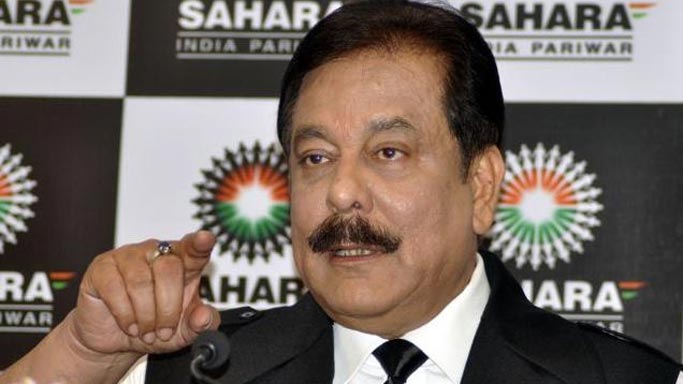 New Delhi, Aug 14: Supreme Court on Friday granted 15 more days to Sahara chief Subrata Roy to wind up negotiations to sell his overseas properties to raise Rs 10,000 crore to make part payment of the investors money raised in 2008-09. . The court ruled out further extensions to finalise the negotiation.
Sahara informed the apex court that negotiations with foreign buyers are at final stage and they were getting price of our overseas hotels above their market valuation.
The Supreme Court on August 1 had cleared the decks for shifting Subrata Roy and two other directors to a make-shift jail in the conference hall at the Tihar Jail court complex to facilitate his negotiations for the sale of his properties in India and abroad. The trio were shifted to the designated conference hall on August 5 for ten days.
The apex court by its March 4 order had asked Sahara to deposit Rs 5,000 crore to be paid in cash and Rs 5,000 crore through bank guarantee.
Raising this money is also a condition for the release of Roy and two other directors who are in judicial custody since March 4 for not complying with the apex court order of Aug 30, 2012 and Dec 5, 2012 to pay back to the investors the Rs. 24,000 crores that two Sahara companies SIRECL and SHICL had raised through optionally fully convertible debentures (OFCDs) in 2008-09.
Roy had moved the court seeking to be shifted to an outhouse with conference facilities within the Tihar jail complex for negotiating with prospective buyers or lenders of three overseas Sahara hotels – Grosvenor House Hotel in London and the New York Plaza and Dream New York hotels in New York.
In the make-shift jail in the conference hall, Roy had the assistance of two secretarial staff and a technical person who would operate the electronic equipment including video conferencing.
The court permitted the use of two computers, two laptops, a mobile and a landline. They will be provided with the facility of video conferencing, wide screen and WiFi by the jail authorities but Sahara will have to bear the cost.
Initially, Roy and two other directors had sought 20 days lodging in the conference hall but the court scaled it down to 10 days. But as Ranjit Kumar said that no secretarial facilities could be allowed to Roy and two other director on Sundays and gazetted holidays, the court allowed the Sahara plea for 10 working days.
Even as the court paved the way for the shifting of Roy, Dubey and Choudhary to the make-shift jail, it asked that soon after they have arranged Rs 10,000 crore, they must outline their plans for the payment of the balance amount which SEBI has now scaled upto Rs. 39,000 crores with the income tax department raising a tax demand of Rs.10,000 crore.