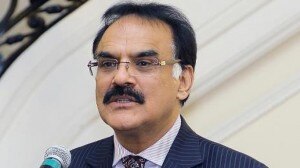 New Delhi, Aug 4: Finance Secretary Arvind Mayaram Monday said the government will be able to accomplish the "tough task" of meeting the fiscal deficit target. He based his optimism on the clear signs of economic recovery, which he said will be reflected by buoyancy in government revenues.
"We will contain fiscal deficit at 4.1 percent (of GDP). It is a tough task. There are clear signs of economy picking up, the government has taken very large number of bold decisions, the Budget has been very well received," Mayaram told reporters on the sidelines of an event here. "We will see the buoyancy in revenue coming up," he added.
Presenting his maiden budget last month, Finance Minister Arun Jaitley set the target of fiscal deficit, which indicates the extent to which the government overspends, to 4.1 percent of the GDP (gross domestic product) for this year, and further to 3.6 percent and 3 percent over the next two years. India's fiscal deficit during the first quarter (April-June) of 2014-15 touched Rs.297,000 crore ($49.2 billion), or 56.1 percent of the full-year target.
"In certain months, the government expenditure is higher. In those months, it is not necessary that revenues will also be higher. For instance, you know taxes are collected in certain periodical manner. So, taxes may come in September and expenditure may be in May," Mayaram said. Jaitley in his Budget announced a host of measures – both welfare schemes and reformist policy measures, including hiking the tax exemption limit – that are aimed at a wide range of stakeholders from the girl child to senior citizens and overseas investors to the defence forces.
Replying to supplementaries on Friday, Jaitley told parliament the fiscal deficit target for the current fiscal is a "daunting" task, and said the government's subsidy bill will be reduced progressively. "As far as the fiscal deficit is concerned, I have already said that it is a daunting challenge," Jaitley said.
"With active policy measures and reforms of the government to contain fiscal deficit and the quantum of subsidy bill, it is expected that the subsidy will progressively reduce," he added.