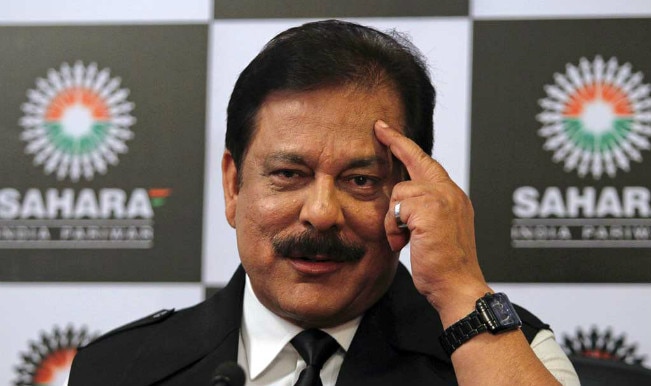 One of the India's biggest business tycoons, Subrata Roy, is the founder and chairman of Sahara India Parivar-a multi-industry company having interests in infrastructure and housing, media and entertainment, consumer goods retailing, finance, manufacturing and information technology.
Subrata Roy, is well known for his love for the sports fraternity. Sahara has have been the main sponsor of Indian cricket team for a period of 14 years. The Sahara Company have been the major promoter of sports in India. Not only cricket, it sponsors the Indian hockey team also.
Recently, he was arrested by the UP police after he failed to appear in front of the court despite a formal summon.  What transpired over the last few years that a man with such stature had to face arrest? What were the circumstances that foiled the Sahara India Parivar's image globally. Here's in brief, what led to arrest of Sahara head.
2009- SEBI receives reports against Sahara alleging the company for raising funds through OFCD's (Optional Fully Convertible Debentures) by violating rules. Rule says: One has to take permission from SEBI for any issuance of securities to 50 or more investors.
2010- SEBI receives another similar complaint. SEBI seeks clarification from the Company, and later in the year passes an interim order to Sahara to refund the money to the investors. (The number of investors' read above a crore).
2011- SEBI passes final order and Sahara challenges the decision before the Securities Appellate Tribunal. The Tribunal upholds the SEBI decision and orders Sahara to refund the ₹ 24,000 crores to its three crores investors.
2012- Sahara appeals in Supreme Court, no respite even here. Supreme Courts directs Sahara to refund money with an immediate payment of ₹ 5,120 crores.
2013- SEBI issues summons to Sahara. Supreme Court, after finding irregularities in refunding of money by Sahara, bars Subrata Roy from leaving the country.
2014- Supreme Court directs Subrata Roy to appear personally. SC issues non-bailable warrant after he fails to make appearance citing mother's illness. Subrata Roy is later arrested by the Lucknow police and is in police custody till March 4.
Though Subrata Roy had earlier responded by saying that he already repaid ₹ 20,000 crores to it investors and the balance should be refunded by SEBI which is already deposited with it. It is to be seen that what happens on March 4, when Subrata Roy appears in front of court. Were there any irregularities in the refunding the money or it's just that the matter is being blown out of proportion? In the meanwhile, troublesome times lie ahead of Sahara Group, as to who will head the business operations and current affairs of the group for the time being. Will it be Seemanto Roy, Subrata's younger son or Swapna Roy, his wife?