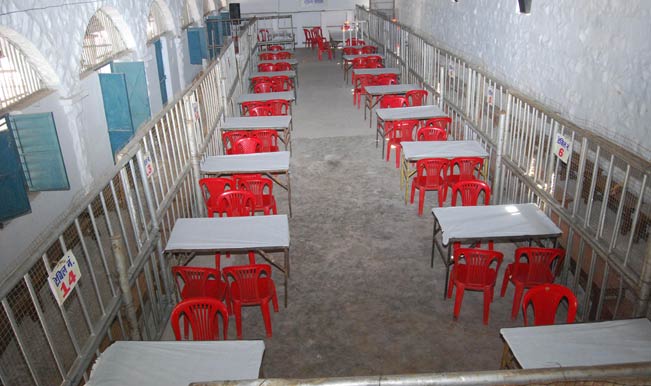 Itanagar, April 9: Balloting in simultaneous elections to Arunachal Pradesh's two Lok Sabha seats and the state assembly was sluggish in the first three hours, with reports of some political workers snatching voting machines. "An estimated 11 percent electorate cast their votes till 10 a.m. for the two Lok Sabha seats – Arunachal West and Arunachal East – and 49 out of the 60 assembly seats. We expect the turnout to be more as voting progress," state Chief Electoral Officer Chandra Bhushan Kumar told IANS.
Kumar said he has received reports of voting machines being snatched by supporters of some political parties in some places. "Police teams have been sent to those areas to take stock of the situation," he said. Arunachal Pradesh Governor Lt. Gen. (retd) Nirbhay Sharma congratulated the people of the state for their peaceful participation in the poll process, indicating growth of democracy.
In the assembly polls, 11 Congress candidates, including Chief Minister Nabam Tuki and two cabinet colleagues Tanga Bayaling and Pema Khandu, have already won uncontested. Hence, voting is being held for the remaining 49 seats. Altogether 7,53,170 voters will decide the fate of 11 candidates contesting for the two Lok Sabha seats and 155 for the assembly seats in the state bordering China and Myanmar.
BJP leader Kiren Rijiju is fighting against sitting Congress member Takam Sanjoy from Arunachal West, while union minister and Congress leader Ninong Ering, who is recontesting from Arunachal East, will face the BJP's Tapir Gao. Candidates from the Naga People's Front, Nationalist Congress Party and People's Party of Arunachal (PPA) are also in the fray in some constituencies.
Chief Minister Tuki, who voted in Sagalee under Arunachal West, exuded confidence that the Congress would retain power and both the sitting Congress Lok Sabha members would return to the lower house. "We are confident to retain power in Arunachal Pradesh as 11 of our candidates have already been declared winners. We are also optimistic that both our sitting MPs will retain their seats," Congress leader Luizinho Faleiro told IANS.
In 2009, the Congress won 42 assembly seats, while Trinamool Congress and NCP won five seats each. Four seats were bagged by the PPA and one was taken by an Independent. However, the Congress tally rose to 55, after the NCP and PPA legislators joined the party along with four Trinamool members.
The BJP is equally confident of returning to the Lok Sabha from the state after a gap of five years, and also of forming the government in the state. "We are confident of winning both the Lok Sabha constituencies and securing more seats in the assembly that will help us lead a non-Congress government in Arunachal," state BJP president Tai Tagak said.