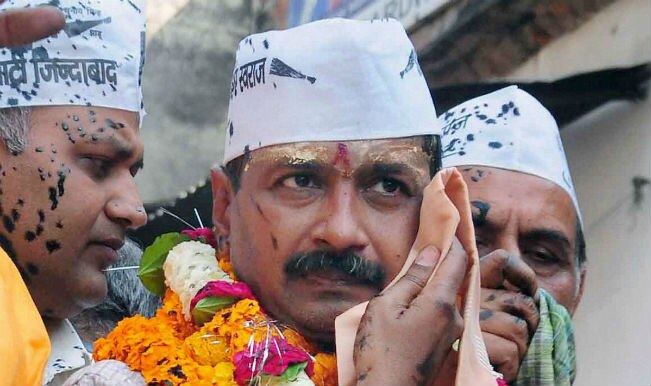 A well awaited and much speculated announcement was made from the holy land of Varanasi on tuesday. A voice raised in the air, "should I contest Lok Sabha elections from Banaras against Narendra Modi? And came the obvious answer from a crowd, majority of which was not even from Banaras.
I listened to #Kejriwal's Varanasi speech on youtube, he seemed to be making out a case for being given money in the name of Allah and Ram!

— Krishna Khandelwal (@krsnakhandelwal) March 26, 2014
Hundreds of workers and volunteers went with Kejriwal from Delhi and many were already sent a few weeks before the rally to set the field so that Mr. Party Suprimo could easily bowl. Kejriwal started with his copy-right/patent dialogues like, "I am nobody", "save this country or it will be destroyed" and "every other politician is corrupt in the country accept him"and etc.
Eggs, ink, black flags, anti-party shouts and pro-#Modi chants were all there to greet Arvind #Kejriwal in Varanasi. http://t.co/gS488TtiYW

— Business Standard (@bsindia) March 26, 2014
The thin crowd was itself evident of AAP's ground in varanasi, however, party enthusiasts along with their sole leader were very confident of winning like they always are. What was noticeable was his tactic of catching the attention of  voters being same as any other leader from just another political party. Going to temple, bathing in the Ganga river and the presence of muslim members on the stage and all turning silent at the time of Azaan in a nearby mosque. It all shows that AAP is not just an activist group which decided to contest elections and promised to practice a different kind of politics which would be irrespective of communalism and secularism.
#kejriwal has been cheated by his followers,they have not arrived in #Varanasi despite sanctioning Rs 1100/- as daily allowance — Ashok Garekar (@DrGarekar) March 25, 2014
Very cleverly Kejriwal shifted from the issue of corruption to the issue of communalism during his speeech to take on Modi . He continuously attacked NAMO and RAGA and kept on talking about just their ills and problems. This is what he always does and has been continuously doing. He goes on highlighting the issues and problems and never talks about specific solutions to the problems. Earlier it was just about the Jan-Lokpal but now that its about the whole nation he must not escape himself from suggesting the solutions as well. If he is not doing so, how is he different from the other politicians whose only job at the moment is to keep blaming and highlighting one another's weak points? To blame is very easy, every body can do that but to have a stand on atleast the major issues upon which they are claiming the public mandate is some thing that would have given them a different show. Every party is fielding their candidates from the temple city but BJP is still being considered as the show stealer for certain reasons like they have been winning this seat for so long and most important they have fielded Narendra Modi, their prime face and the prime ministerial candidate who is already said to have a wave all over the country.
#NaxalinKashi Will Loose deposit in Varanasi – This is what BHIU students think of #Kejriwal >>https://t.co/6c3OXHCHG6

— INFLUENCER (@Purple_Truth) March 24, 2014