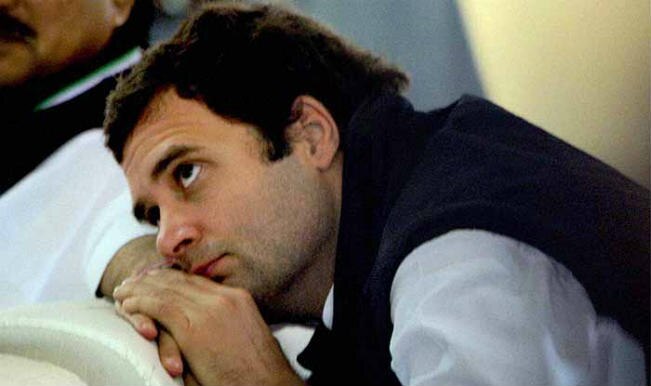 Since last few weeks we have been listening news whether good or bad about Arvind Kejriwal, Narendra Modi and Mamata Banerjee. Even about Raj Thackeray. But where are Congress and its leader Rahul Gandhi? Earlier it was believed the 16th Lok Sabha elections would be four cornered but now Congress looks out of this battle.
Yesterday, holding "Google Hangout' with party workers, Congress vice president Rahul Gandhi called exit polls "opposition's trap" and said that poll surveys predicting that Congress would get just 100 seats in Lok Sabha polls are "joke". He further said that there is no question of Narendra Modi and BJP coming into power. By this Rahul Gandhi tried to encourage his party workers and motivated them for Lok Sabha polls.
The question is why Rahul Gandhi is trying to inspire his workers and asking them to ignore poll surveys? When we talk about poll surveys so almost every survey has predicted that Congress led UPA would get 100 to 125 seats only. The number itself enough to demoralise Congress supporters. Weak leadership, scams and unsuccessful efforts to control inflation has made Congress least favourite in Lok Sabha polls.
It is also clear that in many states like Uttar Pradesh, Tamil Nadu, Bihar, Punjab, West Bengal etc. Congress is not going to win at its own. They need support of regional parties. However in last elections Congress led UPA was in full phase having parties at their side like Nationalist Congress Party (NCP), Dravida Munnetra Kazhagam (DMK), Jammu and Kashmir National Conferance etc. They were having outside support from Mulayam Singh's Samajwadi Party, Mayawati's Bahujan Samaj Party and Lalu's Rashtriya Janta Dal. But now scenario has changed.
Apart from NCP and National Conference, no other party is willing to contest election with Congress.  In Bihar, Ram Vilas Paswan's LJP has joined the BJP led NDA alliance. However, Congress was looking for support from Janta Dal (United) after they left NDA alliance over Narendra Modi's leadership but their leader Shrad Yadav and Nitish Kumar preferred Third Front instead of supporting Congress. After so much efforts Congress finally got some backing from Lalu Yadav's RJD in Bihar.
In Andhra Pardesh Chandra Babu Naidu's Telugu Desam Party (TDP) is looking for an alliance with BJP. Although Congress was trying to get Telengana Rashtra Samithi (TRS) in its side but TRS chief K Chandrshekhara Rao has denied keeping any alliance with Congress.
In Tamil Nadu BJP has got a boost after DMDK and PMK are likely to share seats with BJP and Congress is alone in state after M. Karunanidhi's DMK left the alliance. While in Uttar Pradesh Congress is still in search of friends.
So when it comes to coalition with other regional parties, Congress is really far behind of BJP and it makes their chances to get more that 100 seats unrealistic. If Congress fails to get supports from other parties then it would be clear that Congress is going to sit at opposition.
Photo Credits: Congress Facebook Fan Page