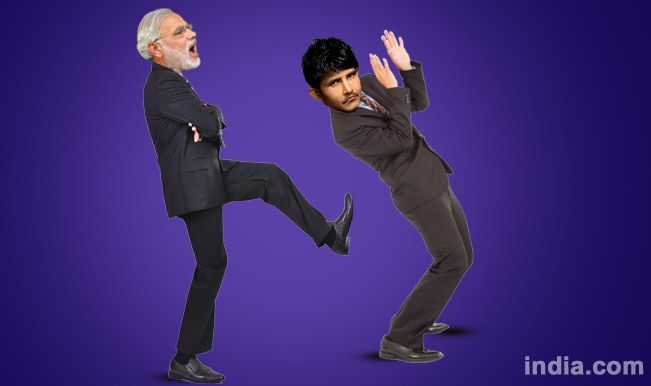 Everyone is aware of Kamaal R Khan's antics to seek attention, but this time it seems he has taken his attention seeking tactics to another level! KRK was going contest from North West Mumbai constituency as an Independent candidate, but at the end it withdrew his nomination. After Narendra Modi's win, it seems like the KRK has gone bonkers. But the good news is that, he will be leaving India and shifting to Dubai. The reason behind KRK's this decision is BJP's clean sweep in the Lok Sabha elections results.
Good night and kiss to @narendramodi for winning with NAMO style n kick to KRK for doing wrong prediction.

— KRK (@kamaalrkhan) May 16, 2014
Ek Baat Tho Maan Ni Padegi- Modi Ji Kahkar Lete Hain. He said before elections tat elections are formalities coz 100% I am going to be PM.

— KRK (@kamaalrkhan) May 17, 2014
After 60yrs of independence one warrior called Modi have come n finished congress party forever. Undoubtedly Modi is most clever politician.

— KRK (@kamaalrkhan) May 16, 2014
KRK went bizzare on social networking site Twitter and appreciated the would to be Prime Minister Narendra Modi. Earlier, he had predicted that Modi won't win the elections, but after he won, KRK started to praise him and his abilities. KRK had also promised that he will leave India if Narendra Modi wins the elections. And we must say he is keeping his words.
Modi Ji has won n I am leaving India as promised. Good bye India forever. I will miss my country n lovely sweet ppl. pic.twitter.com/cmr5nxGtSG

— KRK (@kamaalrkhan) May 16, 2014
We guess, Bollywood will be thankful to Narendra Modi. Many people tried to stop KRK but it's Narendra Modi who was successful in doing that!
What would you say to KRK. Goodbye or Good riddance?
Photo Credits: Jyoti Desale