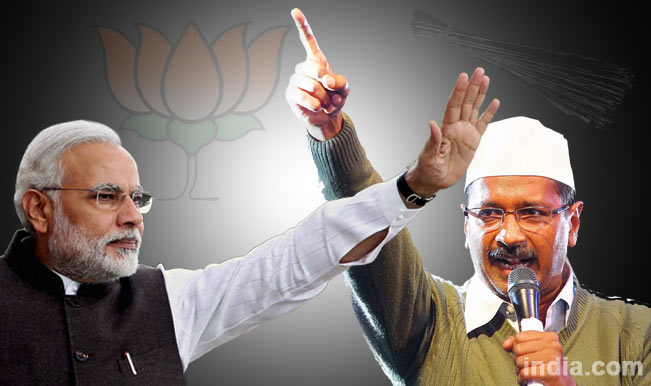 'Pehli Sheila Haari This Ab Modi Ki Baari Hai' chants Aam Aadmi Party (AAP) workers in Varanasi as the temple city gears up for polls on Monday. AAP chief Arvind Kejriwal who is contesting the election against BJP prime ministerial candidate Narendra Modi, the nation is in for another Kejriwal 'bhavishyavaani'.
Kejriwal in his road show in Varanasi on Friday said that he is hopeful of Aam Aadmi's victory in the upcoming elections in Varanasi and other parts of the country. He said Narendra Modi in Varanasi will taste an electoral defeat and AAP will win with a huge margin. The huge ground support for Modi in his recent road show tells a different story. Whose battle is it to be anyway?
Aam Aadmi Party's supremo has been fierce in his campaign in Varanasi. He has been relying on his earlier tried-and-tested manner of door-to-door campaigning. There is a huge support for AAP in Varanasi. He says, "People in Varanasi are asking how will he (Modi), who comes in helicopter for his 2-hours campaign and returns, will be able to serve us?"
On the other hand BJP Uttar Pradesh in-charge Amit Shah is confident of his party's comprehensive victory. The swelling crowds at the Modi's road show during his filing the nomination papers and the road show on Thursday shows the real picture of people's support. Shah says, "Modi wave has transformed in Modi Tsunami and it will bring destruction to the SP, BSP and the Congress."
With both the camps upbeat about their eclectic victory it'll be amazing to see who wins the 'David v/s the Goliath' battle.
For the AAPians, they're sure of the battle victory this time also. But their slogan splinters into lesser relevance when it comes to a bigger picture of Lok Sabha elections. Kejriwal should know that it was on the back drop support of the 'IAC movement by Anna brigade' and the 'Anti-corruption drive against black money' by Swami Ramdev in Delhi, which surged his party chances way ahead of others in Delhi.
Inspite running his entire muck throwing campaign against Sheila and failing to take a strong against her are well imprinted in the minds of people. Compromising on moral grounds to form the government with the help of Congress backfired badly. And the infamous sacrifice-cum-drama over his resignation left a bad taste. Narendra Modi is no Sheila Dikshit. It will be tough for Kejriwal and Co. to take on Modi.
Narendra Modi, on the other hand doesn't have an easy victory on his hands. Modi has very cleverly invoked Maa Ganga remark before fighting in the final phase of these elections. The BJP has been gung-ho about their victory in Varanasi. Modi who is being termed as communal and casteist by his counterparts are some serious allegations he has to wipe out from the mind of the people in Varanasi if he has to win from there. They (BJP) have been denied rallies and meetings in the city, but that didn't stop the swelling crowd to welcome him in the city yesterday.
Modi's smart and daring remarks against the Election Commission should have been avoided. This behavior of his could reduce his party chances of a victory. With the election campaigns in full swing, any complacency by the BJP would end in shame (defeat). BJP has to be grounded until the results are out, or else the over confidence may spell doom for them.
While Arvind Kejriwal has been targeting Modi in his each and every speech, Narendra Modi has avoided taking Kejriwal's name in any of his rallies. Kejriwal has termed Modi and communal and fascist, whereas Modi in his only reference to Kejriwal, called him AK 49 in one of his rally in Jammu.
It has to be seen that, will the mud-slinging campaign win? or will it be Modi's smart exclusion of Arvind Kejriwal work in their favor? The battle is to be fought on 12th May while the results will be out on 16th May.