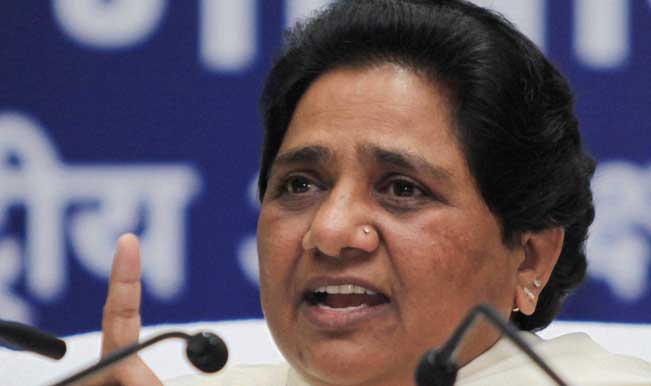 Lucknow, Apr 30: Bahujan Samaj Party (BSP) chief Mayawati on Wednesday described as unfortunate that parties targetted by yoga guru Baba Ramdev, were not reacting firmly or forcefully to his Dalit remark on Congress vice president Rahul Gandhi.
She said that she could not understand why none of the parties, including the BJP, the Congress and the Samajwadi Party were not reacting to Baba Ramdev's unacceptable remark on Dalits, when it has already been described as being violative of the SC-ST Act and the Indian Penal Code recently.
She called on the Election Commission to take strict action against Baba Ramdev for his Dalit insult.
"Ramdev is a 'Yadav', so I don't think the Uttar Pradesh Government will act against him. The EC should take strict action against him. It is unpardonable what he said," said Mayawati.
A first information report (FIR) was filed against Baba Ramdev for his comment that Congress vice president Rahul Gandhi went to the houses of Dalits for a honeymoon and for picnics.
"He goes to Dalits houses for a honeymoon and for picnics. Had he married a Dalit girl, then his luck could have clicked and he would have become the Prime Minister," said Baba Ramdev at a programme in Lucknow.
He said unlike Rahul, Narendra Modi and Ramdev had not become "fakirs" (single) under compulsion.
"Us bechare ki bhi kismat kharab hai (Rahul is unlucky)", Ramdev said.
"His (Rahul's) mother says that if you marry a foreigner girl, then you cannot become the PM, and this boy does not want to marry an Indian girl. His mother wants that first he becomes PM, and then, marries a foreigner", he added.
Baba Ramdev later said he was willing to withdraw the comments if they have hurt Dalit sentiments.
He also rejected allegations by the Congress that his yoga camps are being used for political gain. He said that he had as much of a right as anyone else to air his views.