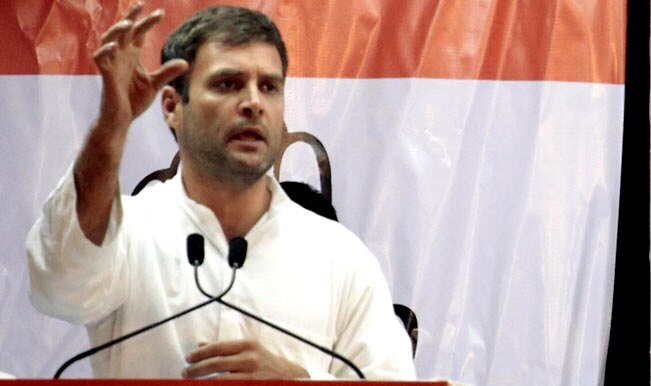 Amethi, May 4: Aggressively wooing voters in the last lap of electioneering in Amethi, Congress vice-president Rahul Gandhi today staged an impressive roadshow and addressed poll rallies, launching a scathing attack on the BJP alleging its intentions on the development issue were not clean.
The Gandhi scion further alleged that Narendra Modi's development model was limited to one or two industrialists, of which one was Adani.
Intentions of the BJP and its prime ministerial nominee were not clean on the development issue, Gandhi told a poll rally at Tekarmafi here.
If voted to power, they intend to abolish welfare schemes like food security and employment guarantee introduced by the UPA government, he said.
Pulling out all the stops to woo voters, the Congress leader claimed that farmers, who had been deprived of their land in Gujarat, were not being considered as native residents and were being forced to leave the state.
The Congress-led government waived Rs 70,000 crore loan of the farmers, he said adding on the other hand, Modi gave land worth Rs 40,000 crore to Adani alone.
"In Gujarat, 45,000 acre land of farmers was given to Adani at the rate of Rs 1 per square metre which was later sold at the rate of Rs 800 per square metre.
"Before giving land to Adani, Modi didn't ask farmers even once. We fought for Bhatta Parsaul… leading to the enactment of land acquisition law," he said.
"Farmers in Gujarat are a harassed lot. They are being forced to leave the state. Some of the farmers met me and narrated their stories," Gandhi said.
The Congress leader said he respected women a lot and realised that they played an important role in the working of the country and had, therefore, created opportunities for 12 lakh of them by connecting them with banks.
"Modi talks about giving power to women. I want to tell him that women of India are not weak. They are internally strong. Modi should learn to respect women," he said.
In an apparent reference to the snoopgate row, Gandhi alleged policemen in Gujarat used to tap phones of women and harassed them.The Congress vice-president said Modi talks about the Gujarat model where budget for education and health is Rs 8,000 crore but despite this, the facilities are very poor.
Training his guns on Modi, he said the BJP prime ministerial candidate talks about the entire country but in Maharashtra, Shiv Sena and BJP people assault those from Uttar Pradesh and force them to leave.
Gandhi said his party stands for politics of uniting people while "others create differences between Hindus and Muslims".
"We want a country where no one remains hungry, every person has a roof of his own. A place where free treatment facility is available and there is a smile on the face of a poor person. If the Congress comes to power, we will do all this," he said.
Rahul and his sister Priyanka Gandhi Vadra held an impressive roadshow in the family pocket borough Amethi.
A huge crowd chanted slogans praising the Congress vice-president who has been representing the constituency for the past 1O years.
A large number of Congress supporters had gathered to catch a glimpse of both Priyanka and Rahul who is pitted against BJP's Smriti Irani and AAP's Kumar Vishwas in the May seven Lok Sabha battle for Amethi seat.
Some enthusiastic supporters showered rose petals at them.
Both Rahul and Priyanka, guarded by SPG commandos, stepped out of the vehicle to pay obeisance at a dargah.
The 2-km roadshow by the Gandhi scion comes on the eve of Modi's campaign in Amethi in support of Irani.
Rahul has been camping in Amethi for the last days to woo voters..