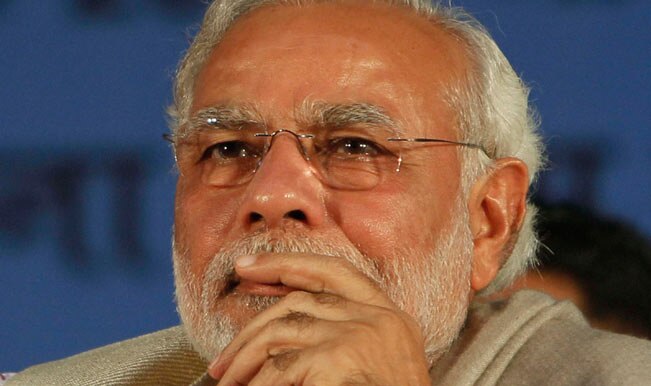 Gandhinagar (Gujarat), Apr.16: Bharatiya Janata Party (BJP) prime ministerial candidate Narendra Modi said on Wednesday that he had no say in deciding from which constituency or constituencies he would be fighting the 2014 general elections from, and added that the decision was made by the BJP's central poll committee.
When specifically asked why he chose Varanasi, and whether the choice was dictated by the fact that this city leads to New Delhi via Uttar Pradesh, which sends the most MPs (80) to Parliament, Modi told Smita Prakash, Editor (News) Asian News International (ANI), in an exclusive interview held here: "It was not my decision whether to fight the Lok Sabha polls, where to fight from, and from how many constituencies I will fight from. It was done by the BJP, the Central Election Committee and the BJP Parliamentary Board."
He humbly added: "Since I am a worker of the party, I do as I am told."
Modi further stated during the course of the interview that his loyalty was not and would not be limited to the two parliamentary constituencies from which he was contesting elections from i.e. Vadodara and Varanasi, but would be with and for the 125 crore people of India.
Asked whether there is a possibility of him giving up one of these two constituencies after the results are announced, he said: "First, my loyalty lies with the 125 crore people of this country, and in any part of world, if anybody does some good to you, then you always feel like returning that favour. These are my principles."
"Leaving (a constituency or a state) and selecting (a constituency to represent) will be decided on the basis of the mood of the people and the strategy of my party. After winning, I belong to everybody, and I will work for everybody. That is my nature," he added.
Asked to whom would handover the reins in Gujarat (where he has been elected chief minister for three consecutive terms), Modi said: "There will be some worker of the BJP. As of now, Modi cannot do it, since the BJP is the organisation. They, the leader, the election committee, the parliamentary board and the central leadership, everybody, will decide together."