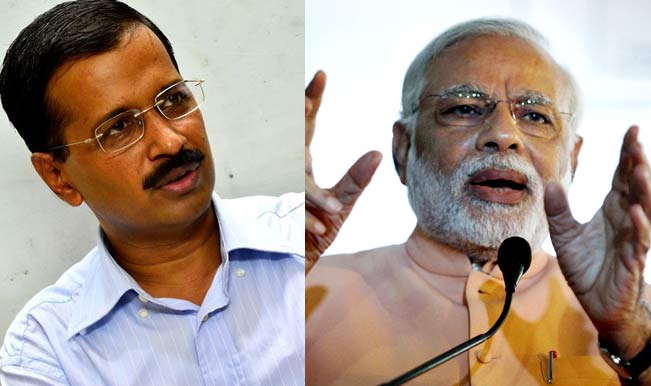 Modi is leaving no stone unturned to triumph the temple town riding high on his much hyped wave while constantly maintaining that necessary distance with his expected electorates and this is where his fear and nervousness is coming out. Despite of all his managerial skills, his mighty and well skilled team working round the clock to maintain the momentum of his propagated 'Tsunami', why this man of the moment is looking anxious?
The only reason is 'AK', the name he has used for Arvind Kejriwal. On one hand, Modi is using all sort of tactics be it religion, caste or whatever it takes to evoke the emotions of voters in his favour but at the same time he is maintaining a high profile with no direct contact with the people on ground. He lands on a heliport, comes in a motorcade surrounded with tight security, addresses a rally from the mighty stage and diminishes back into the sky. Those who cannot attend his rallies or miss the road shows can only see him on television which is providing him ample coverage for whatever he does.
On the other hand, AAP supremo Arvind Kejriwal with his team of 5000 volunteers has opted for a different kind of strategy to counter the big wig Modi along with others in the fray. He has been camping in Varanasi accompanied by the other prominent faces of AAP and is trying to cover as much ground as possible, meeting with the people directly, talking to them , taking questions and trying to convince them with a personal touch. He has chosen to visit villages and far off places of the constituency rather than focussing only on the urban class.
No matter how much confidence BJP leaders along with their prime ministerial candidate show in front of their very dear team of television, the fact remains that Modi is facing the toughest fight of his life with the person they always choose to discount.
If its not a reality he would not have tried to smartly shift his electoral strategy from issues & possibilities to caste & community. Whatever clarification he along with his squad of well spoken & less informed spokes-persons try to give, their recent actions and theatrical adaptations depict their nervousness and frustration for sure.
Be it resources, man power or mass gathering, BJP has excelled compared to AAP on every front but the only point where Kejriwal is leading well ahead of Modi is accessibility. Arvind is available in Varanasi round the clock while Modi is not. People can meet Kejriwal directly, talk to him, ask questions but if they wish the same for Modi, its like daydreaming for them.
When BJP was doing the campaigning in the initial phase, it was doing well but now they are overdoing it all which may work in descending for them proving self destructive for their own party.
Amit Shah's provocative statements have already raised the eyebrows of the people in Purvanchal region making it ample clear that majority of the Muslim vote will not go to the saffron brigade. It might affect their support among the lower castes as well.
'Polarization' which has been the most used word this election season by all the leaders (for making allegations on their opponents), political pundits, and the so called intellectuals is at its peak level. Credits to this may be given to a number of so called icons of secularism in Indian polity.
BJP is eyeing a particular lot of Modi wave driven electorates while Kejriwal is garnering the dream that Muslims being anti Modi will certainly vote for him as the other options are not that much viable.
With all the efforts directed towards the desperate race of victory and defeat, the people have been left behind somewhere. But who is concerned about the people? "Lets divide, distribute, get your own share and move ahead". This is not the quote of any of them but at the end, this is the only conclusion people are left with.