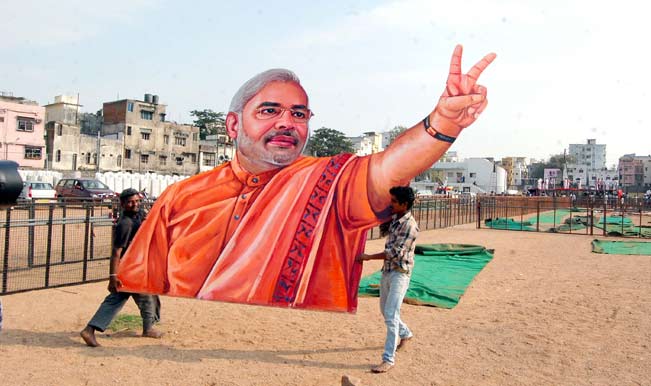 New Delhi, Apr 5: Bharatiya Janata Party (BJP) prime ministerial candidate Narendra Modi appears on course to become the next prime minister, with an opinion poll showing his party maintaining a strong lead ahead of the Lok Sabha elections that begins next week.
BJP has benefited from a wave of public anger over corruption scandals and a slowing economy under the Congress, which may be facing one of its weakest-ever showings at the polls.
The BJP is expected to win 35 per cent of votes, a poll published by CNN-IBN and Lokniti at the Centre for the Study of Developing Societies (CSDS) showed, 1 per cent higher than a similar poll in January.
Congress is likely to claim 25 per cent of the vote, down from 27 per cent in the January poll, according to the last major survey before the election.
Modi has been attracting huge crowds at election rallies across the country ahead of the polls, promising to deliver on the issues that have alienated the Congress from the electorate.
"I have been touring the entire nation for last six months and talking about changing the future of India. I am talking about development, employment for youth. I am talking about respect for women. For this, they do not have any answers," he told a rally in Ghaziabad, on Thursday.
Polls have consistently shown voters favouring Modi, a divisive but charismatic figure, to lead the country. Rahul Gandhi, the political heir of the Nehru-Gandhi dynasty appointed to lead the Congress campaign, has in contrast struggled to gather support among voters.
So Gandhi has been facing an uphill battle to sell his populist politics to his party's traditional supporters – the impoverished at the bottom of the social and economic heap.
"We believe that for this country to grow, there needs to be a firm partnership between business, between the economic sectors of this country and between the poor. We believe that you cannot grow this country by neglecting either business or neglecting the poor people," he said on Thursday.
Experts say that if the BJP comes to power, the Sensex is bound to jump with enough support coming from foreign institutional investors. That will also harden the rupee further.
The BJP has promised to kick-start the economy, bring in factories, and educate the densely populated and still-poor heartland states of India.
Modi has the backing of big business, which wants him to replicate his Gujarat state model of good roads, uninterrupted electricity and less red tape. Last week, he promised simpler laws and a trade-centred foreign policy, if elected.