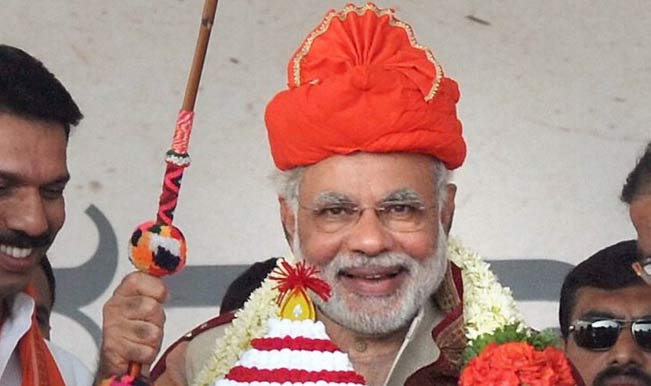 New Delhi, Apr 12: It was the first major indirect face off between BJP's prime ministerial candidate Narendra Modi and Congress vice president Rahul Gandhi on two different new channels. People were eagerly waiting for what the two leaders who rarely give interviews have to say.A Super Saturday? In more ways than one. Rahul Gandhi's first attempt to connect with the people ended up in a big disaster while Modi too stays away from the media.
It all changed on Saturday, April 12. For Rahul Gandhi it did not change for the better though but Modi made the most of the opportunity and answered all the charges from Adani, Advani, Jaswant to skull cap and puppy remark with wit and humour in his over close to two-hour interview. Rahul Gandhi kept his first complete interview in Hindi short and mercifully so 'cause he had nothing new to say. His previous attempt could have been played with subtitles.
With interview playing on channels, the BJP and Congress supporter were soon on twitter with both sides claiming who was better. Needless to say, Modi supporters outnumbered Rahul Gandhi's supporters. Both #ModiKiAdalat and #RagaSaga continue to trend on micro blogging site Twitter and the Modi army was covering the interview live.
Check what the followers had to say about the event:
Feel sorry for journalists sometimes. The sacrifices they have to make for the country…sigh….some of them have to interview Rahul Gandhi

— $$Jhunjhunwala/Magal (@jhunjhunwala) April 12, 2014
I belong to Jamnagar,Gujarat. N the safety He spoke abt during narvratri days is 100%true be it evn 4am in morn #ModiKiAdalat

— Vidhi Mehta (@vidhimehta27) April 12, 2014
#ModiKiAdalat this man is the only hope for devastated nation….#modiforpm

— Shah Zalak (@zeks_rulzz) April 12, 2014
Now wait for the retards of AAP & Dhongress to call #ModiKiAdalat a fixed interview. Well, burnol to them plz!

— Jia Sharma #Vote4BJP (@ZindegiROCKZ) April 12, 2014
Was it a simple TV interview or was it a festival? Unbelievable scenes. This is how #ModiKiAdalat was watched: pic.twitter.com/SnSa1pv8sC

— Akhilesh Mishra (@amishra77) April 12, 2014
Modi answers tuf qstns in #ModiKiAdalat .. Rahul answers a scripted interview with a dumb aaj tak krantikari interviewr #RagaSaga .

— Ankit Chaurasia (@Ankit_chaurasia) April 12, 2014
Haa haa, Modi haters are visibly shaken after #ModiKiAdalat. What will happen to them after May 16? )

— Indian Shahzada (@SwarupPhD) April 12, 2014
I am not a BJP supporter, infact I hate the party.But today I watched Modi's interview. Now I'm a fan & follower of Modi #ModiKiAdalat

— The 8 Year Old Boy! (@Boytalks_) April 12, 2014
Today, Omar Abdullah is acting like Rahul Gandhi. He didn't understand Modi's reply. #ModiKiAdalat

— 0mar Abdullah (@abdullah_0mar) April 12, 2014
Did anyone watch #RagaSaga? Unfortunately, I missed the comedy show. Coz couldn't change the channel for even a single moment. #ModiKiAdalat

— Jia Sharma #Vote4BJP (@ZindegiROCKZ) April 12, 2014
Was away watching #ModiKiAdalat interview. I have to say, it was not as half as indulging as our krantikaari interview with Punya Prasun ji.

— Frank Yogendra Yadav (@khAAPYogendra) April 12, 2014
Is RG being forced to give intvs? He was so dumbstruck again! Nw,how can he appear with such a nonchalant demeanour on NationalTV. #RagaSaga

— Sneha (@maloosneha) April 12, 2014
Two movies Released today… #RagaSaga & #ModiKiAdalat and Twitter trends would tell you who had Box Office success..

— ROFL India (@ROFL_India) April 12, 2014