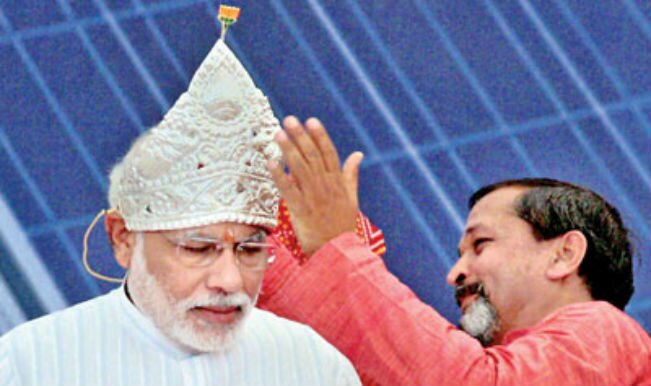 Shri Narendra Modi ji
I am an ordinary citizen of Varanasi and my family has been residents of this great city since 1868. Besides being a small entrepreneur of home décor fabrics, along with a few others I have started a multi-dimensional cultural festival called 'Banaras Utsav.' We celebrate the best of Benaras in arts, crafts, literature and its popular culture while getting the best from around the world to celebrate with us. I am writing this open letter to you in the hope you will read it and think about the points below.
"Benares is older than history, older than tradition, older even than legend, and looks twice as old as all of them put together." – Mark Twain
Kashi Kaba Ek Hai, Ek Hai Ram Rahim – Kabir Ji ka Doha
I do not need to go into the history of Benaras but I surely want to point out that we may be the 'Hindu' capital of India but I feel the city best exemplifies India's plural nature and its 'Ganga-Jamuni' tehzeeb. I am sure you are aware that Eastern Uttar Pradesh has given birth to political greats such as Jawahar Lal Nehru, Indira Gandhi, Lal Bahadur Shastri, Kamplapati Tripati and Kalpnath Rai to name a few. These stalwarts not just held India together in its initial phase post independence but ensured that we grew as a nation, a great nation infact, something which we are all proud of.
Mr Modi let me make it clear at the onset that many BJP politicians have represented this great city, but have barely managed to do anything for it. It still looks 'twice as old' and its decaying ghats; decrepit buildings and pot holed roads have many a pain to tell. Our last MP, from the BJP was Murli Manohar Joshi, who did NOTHING for this great city. I do not know when you come here to contest as an MP candidate, how will you even attempt to justify is non-performance? He was an outsider as you are.
Mr Modi, I appeal to your good senses to withdraw your candidature from Varanasi and let the Ganges flow quietly here. Its 'madhur' flow is better understood by a local candidate who feels for the place. You have no connection with the city and will leave the seat after your political gains are made, if you do manage to win the contest.
The Muslims and Hindus and many other religions co-habit here. Their business and lives are entwined like the sweet melody of Ustad Bismillah Khan's shehnai at Kashi Vishwanath temple. This city of culture and its peculiar ethos takes a lot of time to understand and in your hurry to be the next Lok Sabha member from Varanasi and Vadodara, you will forget to learn its way. The meandering lanes of Varanasi heighten every sensory pleasure in you from the kachori-jalebi to the call from the muezzin to the blowing conch shells from the by-lane temple to the silk warp being prepared by old Muslim weaving families of Varanasi. All this meets at the ghats where quiet flows river, washing all our sins and taking with it our sorrows.
Mr Modi I would like to point out that in Benares, the river defies gravity and flows northwards making it further unique as a tourist destination. No promises made by various 'aashwasan gurus' before you have been fulfilled in this city. Its soul still lives on but the city is slowly dying. Let me point out that Banarasis are emotional people and I fear the tsunami you bring along with your marketing campaign may drown out our particular culture of intermingling lives that we have lived for centuries. Do remember this is the land of Kabir and Nazir.
Mr Modi you have not even announced what you plan to do, if you were to win from Varanasi. Many a people are waiting to hear your plans as our last MP was absent most of the time and so were his representatives. No promises were made and none were fulfilled. We fear that you have already gone from a 'strong candidate' to a weak one by choosing to contest from two seats.
Let me end by telling you that people not only from all of India but even from China, Tibet and other parts of the world come to Varanasi and they take us in their hearts wherever they go. Additionally 'wo sab Kashi ko apne dil main basa lete hain' and all you are doing is playing politics for your supposed short-term gains.
This city and its residents are crying for a local person who understands the city and its people to take us forward in this new century, maintaining its glorious past, keeping its original soul while making life a little easier with better and modern civic amenities. With this I issue an appeal to you, please withdraw your candidature Mr Modi, you may want Benaras for politics but we do not open our arms to you. 'Tum to thaerey pardesi saath kya nibhaogey' as the famous song goes.
An ordinary citizen of Varanasi
Gaurav Kapoor