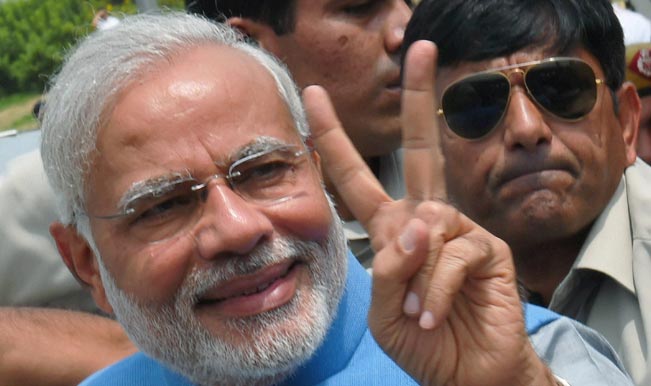 Varanasi, May 17: Narendra Modi reaches Dashashwamedh Ghat to take part in the Ganga Aarti. The BJP Prime Minister-designate is accompanied by BJP president Rajnath Singh and BJP Uttar Pradesh Amit Shah. The BJP leaders first performed Ganga puajn and moved to a special dias erected to watch the Ganga Aarti. The BJP leaders offered prayers at the Kashi Vishwanath temple before heading to Dashashwamedh Ghat for the Ganga Aarti.
Narendra Modi,Amit Shah and Laxmikant Bajpai during Ganga Arti at Dashashwamedh Ghat pic.twitter.com/bTT5zixAOn

— ANI (@ANI_news) May 17, 2014

Modi arrived in Varanasi from Delhi after winning the Lok Sabha elections from the temple town.
Varanasi : People wait at Dashashwamedh Ghat, Narendra Modi to arrive shortly pic.twitter.com/yyKEH4R7Pw

— ANI (@ANI_news) May 17, 2014
Modi had been denied permission for an election rally and another event in the city May 10 by the district administration during the campaign. Now, the Varanasi authorities are rolling out a red carpet to welcome Modi who led the Bharatiya Janata Party to a spectacular win in the Lok Sabha election.
As of now, there a communication on whether Narendra Modi intends to address the people of Varanasi.
Narendra Modi arrives in Police Lines, Varanasi pic.twitter.com/lB81hJBfyJ

— ANI (@ANI_news) May 17, 2014
Modi won from Varanasi by over three lakh votes. He polled 5.81 lakh votes while his nearest rival, AAP leader Arvind Kejriwal, got 2.09 lakh votes. All other candidates forfeited their deposits.