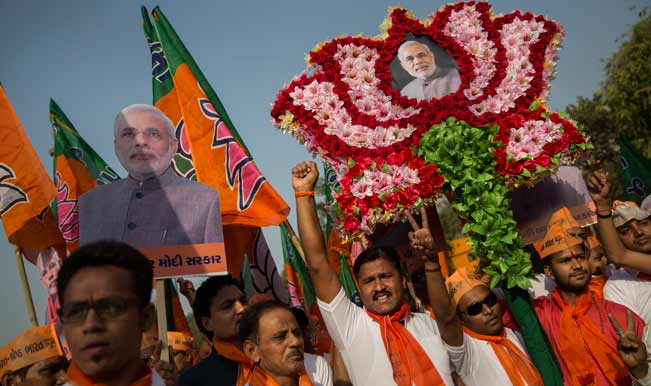 New Delhi, May 16: Family members were glued to the television, working class were getting regular updates from social networking sites, vendors and shopkeepers were tuned to radio, and a few were calling up their homes to know who will be India's next prime minister – India Friday took up to different sources to be informed, and many broke into celebrations with the news of BJP prime ministerial candidate Narendra Modi's landslide victory in the Lok Sabha elections.
As it became clear during the first few hours of voting that Bharatiya Janata Party (BJP) was poised to form the government, Mukesh Paul, 53, a resident from Dwarka, an ardent BJP supporter, broke into celebrations with his colony residents.
"It feels wonderful," Paul told IANS. "The country needed a change and irrespective of what people think, Modiji deserved a chance," he added.
In a plush office in Okhla, in southeast Delhi, advertising professionals had "Na Mo" slogan on their lips.
"It has become 'the greeting of the day'," chuckled Vishesh Mehra, a copywriter, who isn't a Modi supporter, but wanted a stable government at the helm.
"There are no such celebrations but BJP supporters are treating us in the office. So this free dinner will be our celebration," said Mehra.
Things were a bit different in Kanpur where marketing manager Praveen Srivastava, 37, was getting regular updates about election results through Twitter and news updates.
"I am on the field most of the time, but thanks to technology I was getting regular updates," he said.
"The best thing is that BJP is leading in Uttar Pradesh. It was an apt time to throw away rotten governments," he added saying he has plans to go out for dinner with his wife to celebrate Modi's victory.
While many BJP supporters broke into a jig on roads and busted crackers during broad daylight, Shyam Kumar, a sweet-maker from Noida was distributing free sweets to the people of his locality.
"Happiness needs to be shared and celebrated," Kumar told IANS.
Even though things were "disappointing" for Aam Aadmi Party(AAP) supporter Sandeep Singh Bajeli, a Mumbai-based filmmaker, he was discussing election results with his wife, Neelam Taragi who is in Ranikhet – a hill station in Uttarakhand – to meet her parents.
"I was discussing counting results with my wife and updating her about election results over the phone. This is not a day to celebrate," Bajeli told IANS.
Ashish, a tea-seller from Jammu, was glued to the radio since morning to "know" who is winning.
"These election results were as important as an India-Pakistan match. Life might not change much for me, but there is no harm in being hopeful," said Ashish.
"I am not celebrating, but people are. Office goers and commuters are taking a break to sip tea and discuss results. I have earned well today and this in itself is a celebration," he added.
Assam-based Nabakrishna Hazarika is happy with BJP making strong inroads in the northeast region, and feels this neglected region needed a strong face to address to their woes.
"We(northeastern's) face an identity crisis aggravated by the problem of illegal immigration. Only a strong leader like Modi, who has nationwide acceptance, can bring our concerns to the mainstream," Hazarika, a student, told IANS.
But Techi Mary from Arunachal Pradesh isn't happy with the prospect of seeing Modi as prime minister.
"I will be happy if BJP wins, but its difficult to accept Narendra Modi as the prime minister of this country. The person who was accused in 2002 Gujarat riots against the people of his own states shouldn't become the prime minister. There are many other leaders who can be appointed for this position," Mary told IANS.
So aren't many people who have "blackened" their profile pictures on Facebook as a mark of protest.
"Remember, remember, this ignominious surrender: the Pied Piper of Gujarat will tear us asunder," posted a corporate lawyer on his Facebook page.
Ankit Agrawal, a photo-journalist posted: " Corporates and communalism won at the cost of 'Democracy'. Mubarak ho, hum sab ko fascism hua hai(Congratulations to all, we have become fascists)," he posted.