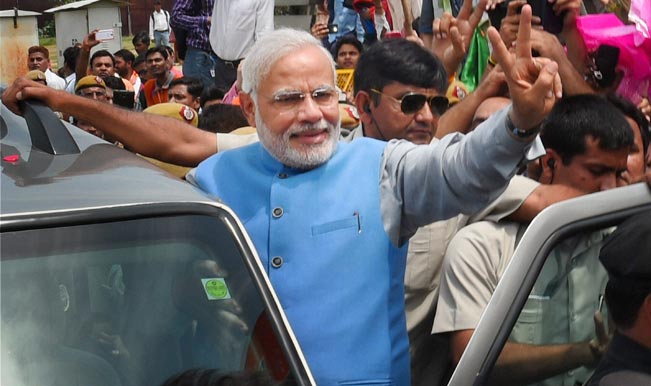 New Delhi, May 17: BJP Parliamentary Board will meet on May 20 to elect Narendra Modi as its leader, party president Rajnath Singh announced this today. He said the date for swearing-in has not been decided.
"We will conduct another Parliamentary Board Meet on 20th May at 12 p.m. where we will complete the formality of selecting the cabinet's leader (Modi). There are many speculations in media that the oath taking ceremony will take place on 20th or 21st May; I would like to say, Please don't speculate, that decision (of oath taking) will be taken on 21st May too."
The must awaited full fledged press conference of Narendra Modi is finally underway. The BJP top brass consisting of LK Advani, Rajnath Singh, Murli Manohar Joshi, Nitin Gadkari, Sushma Swaraj, Arun Jaitley and Venkaiah Naidu are all present on the stage. While Rajnath offered garland to Modi, the other senior leaders offered him bouquets.
Rajnath Singh is first to speak: We had first called a meeting in 2013, where we had appointed Narendra Modi as our prime ministerial candidate. I would like to not only thank the BJP workers all over India but also congratulate them for their hard work. The people have come forward, leaving the social and caste juggernaut behind and has given a clear mandate. I thank the people of India, who because of there visionary approach, reposed faith in the BJP and we're very thankful for their overwhelming support.
Narendra Modi speaks: I thank all the voters of India, and also the media persons who helped in raising voting issues. The elections have ended in enthusiastic mood, and hence media has played a big role. Maybe some of you would have liked to meet me too, but because of time constraint, I couldn't meet you. But, as you all know that I'm yours, I shall meet you in coming times.
Narendra Modi reaches BJP headquarter and is greeted by BJP president Rajnath Singh. The BJP's Prime Minister-designate gets a rousing welcome by party leaders. Senior BJP leader Nitin Gadkari, Balbir Punj greet Narendra Modi. Modi addresses the gathering of supporters for their support. It is the victory of BJP workers. The BJP workers have worked hard for this victory.
The cavalcade from airport was stopped at number of places by enthusiastic party workers after BJP secured a handsome majority in the Lok Sabha elections 2014. The Bharatiya Janata Party (BJP) prime minister-designate Narendra Modi was accorded a warm welcome as the BJP-led National Democratic Alliance (NDA) got majority in the 2014 general elections.
Delhi: Narendra Modi's convoy en route to BJP HQ pic.twitter.com/h1LqgWJZ4j

— ANI (@ANI_news) May 17, 2014
    Party is holding roadshow to celebrate his victory. Modi will also attend a meeting of the BJP Parliamentary Board at the party headquarters. The BJP has decided to use his journey from the Indira Gandhi International Airport (IGIA) to the BJP headquarters as a victory procession. Narendra Modi's victory procession marches ahead as huge number of BJP supporters greet Modi.
Delhi: Narendra Modi greets supporters outside the airport pic.twitter.com/BE3IhfoOEQ — ANI (@ANI_news) May 17, 2014
  People turn up in large workers and stop Narendra Modi's cavalcade at the airport. People break security cordon.
Delhi: Narendra Modi arrives at the airport pic.twitter.com/gKDe72JznD — ANI (@ANI_news) May 17, 2014

BJP president Rajnath Singh arrives in Delhi airport to receive Narendra Modi. Senior BJP leaders are also at the airport to receive Modi.
Supporters await Narendra Modi's arrival at New Delhi Airport pic.twitter.com/6ohEokjEVb

— ANI (@ANI_news) May 17, 2014