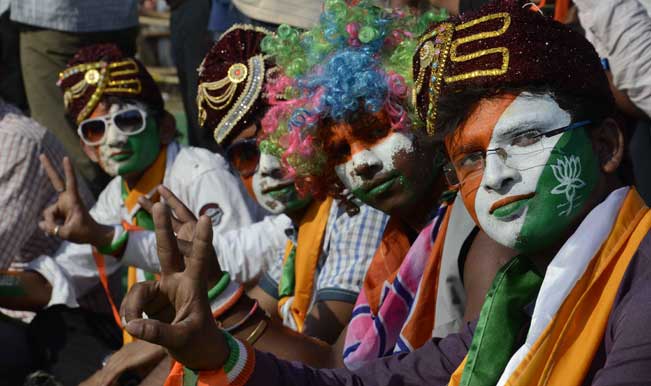 New York, May 17 : Indian Residents in New York City welcomed the news of Bharatiya Janata Party (BJP) win in the Lok Sabha elections led by party prime ministerial candidate Narendra Modi.
"This is the biggest win after 40 years of Indian history. He's (Modi) been the chief minister of Gujarat for the last 15 years and he has done a tremendous job there," said supermarket owner Sharad Agarwal.
Modi's landslide, the most resounding election victory the country has seen in 30 years, was welcomed with a blistering rally on India's stock markets and spirited celebrations in New York, where supporters danced to a drum beat, wore Modi masks, and handed out sweets.
Niti Vora, former president of the Jackson Heights Indian Merchant Association also welcomed the results of the Lok Sabha elections.
"All these years for the last 60 some odd years, congress was the only ruling party, but this is the first time BJP got clear majority on its own with our new Prime Minister Narendra Modi. He's doing a great job and India will shine," she said.
"For the last five years, the economy was stagnant, people were not investing money because of what was going on over there," said Shiv Dass, chairman of the Jackson Heights Indian Merchant Association.
"But Modi won the clear majority, and the government will be stable and people will rest in India. India has a lot of potential. In this market we're all rooting for him and our businesses will also improve because import and export will improve. People will invest with confidence," he added.
"I think it's about time that new leadership brings new progress. India has been stuck for the last century for quite some time. We need new leadership for the young people. So I think it's going to be a bright future," said a Modi supporter, Rajee Iyer. "
The BJP-led NDA secured an absolute majority in elections for the 16th Lok Sabha by claiming 337 seats. Of these, the BJP won in 283 seats. Among the other 15 parties in the coalition, only the SHS (19 seats) and the TDP (16) managed to achieve double digit figures.
In contrast, the ruling UPA could manage to win only 58 seats. Of these, the Congress won 43, its worst electoral performance since 1977. The remaining nine members of the ruling coalition could manage only single digit results, with the NCP coming second with five seats, and the RJD with four.
Friday's result was the largest anti-incumbency vote in India's history. It was driven by a desire for change and anger against corruption and the sluggish economy fanned directly or indirectly by the Congress-led UPA regime, which was in power for a decade.
It also represented the people's hope for a better India under BJP prime ministerial nominee Narendra Modi's watch.