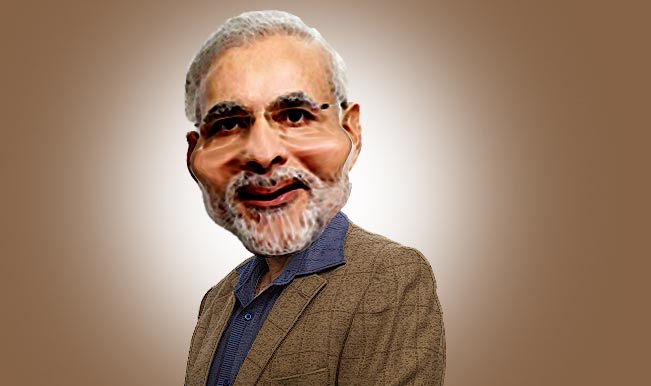 Did you know that the government in Assam is killing endangered Rhinos to make way for Bangladeshi immigrants? Well, that is what Narendra Modi said at a rally two days ago.
Narendra Modi has left no stone unturned this election season, so much so that even the Great Indian Rhinoceros could not escape being politicized by the BJP's Prime Ministerial candidate. From ridiculous to rambunctious, Modi has said it all.
Here are five gems from the vast collection of Modi-isms:
"AK-49, an agent of Pakistan"
Modi labelled AAP leader Arvind Kejriwal as AK-49 and accused him of being hand-in-glove with Pakistan. Taking a cue from the AK-47 rifle, Modi invented two other AKs of his own (the other being at the expense of Defence Minister AK Antony) who are allegedly responsible for strengthening Pakistan. By calling Kejriwal AK-49, Modi also took a jibe at Kejriwal's infamous 49 day government in Delhi, and said that he is an agent of Pakistan because the official website of the AAP shows Kashmir as a part of Pakistan.
"We are a nation of mouse charmers.  Every young person in India uses a mouse on the computer."
At a youth convention in Gujarat, Modi thrilled the crowd by giving an anecdote from his visit to Taiwan earlier where he had explained to his audience that India has advanced from being a country of snake-charmers to mouse-charmers. There are hardly any snake-charmers left in the country but it is interesting to see their nostalgic presence in Modi's patriotic speeches.
"If a mother tells her daughter to have milk, they'll have a fight. She'll tell her mother, 'I won't drink milk. I'll get fat'."
This was Modi's answer to worrying government data on malnutrition rates in the state of Gujarat. Terming the challenge of malnutrition as an issue of the "beauty–conscious" middle class society, Modi presented the most bizarre and possibly insensitive of all explanations for this serious problem. Needless to say, the comment received a lot of backlash in the media and presented opposition parties with an excellent opportunity to target Modi in his own game of colourful use of language.
"The moment there is a crisis; they put a Burqa of secularism and hide in a bunker."
Only an orator like Modi can pull off such a politically and communally vindictive statement. This statement won him a lot of followers who are clearly not-so-secular. What is also interesting is that even though a lot of Modi-isms are communally motivated, they only seem to provide comic relief to his supporters.
"I believe that the glass is full; one half with water and the other half with air."
In a show of extreme optimism, Modi uttered a statement that cannot be countered in any argument but manages to sound silly and redundant at the same time. His unusual way of interpreting phrases and idioms has kept the country asking for more. In the near future, we can hope that Modi will shed his optimism and knowledge on popular questions like 'Which came first, the egg or the chicken?' and actually start helping Indians solve other mysteries around science and development.