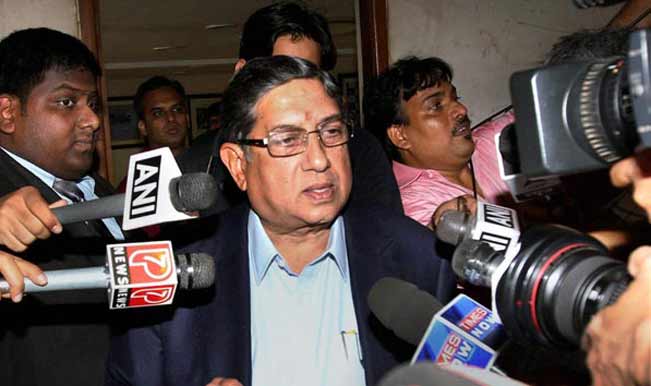 Sierra Leone, a tiny country on the western coast of Africa, was a constitutional democracy until 1968, when Siaka Stevens entered politics. His tenure witnessed rampant corruption and centralization of power and when he finally stepped down in 1985, Sierra Leone was a one party state. His stint is often described as '17 years' plague of locusts'. Looking at the way N Srinivasan and Board of Cricket Control in India (BCCI) is functioning, seems like they are getting there.
Notwithstanding the match fixing controversy in 2000, Indian cricket seems to be at its lowest ebb today. Cricket has not embedded malpractices for the first time and neither will it be the last time but 14 years ago, the innocence and sensitivity in the game was still intact. People associated with the game genuinely seemed hurt. This time around though, the scenario seems to be like a long dark tunnel with not a chink of light at the end of it. BCCI, for a long time now, has taken fans for granted and espoused greed. With the ocean of money at their disposal, BCCI has become like the sun in the solar system but has ensured an eclipse of democracy and integrity in Indian cricket.
The likes of Arun Jaitley, Rajiv Shukla, Omar Abdullah, Narendra Modi, Jyotiraditya Scindia are, to name a few, the members of BCCI. They might go hammer and tongs against each other in the parliament but when it comes to BCCI, everyone seems to be busy saving each other's backs, rather than the credibility of the game. Srinivasan's dictatorial way has always been countered with stony silence. However, the thick-skinned attitude of politicians is not the reason behind the gloomy cloud looming over the credibility of the game. We are used to this attitude, aren't we?
The more worrying and disturbing part is the pushpak mode of our commentators and former players, who we once respected and worshipped. All the commentators come under the dictate of BCCI. As a result, Ravi Shastri, Sunil Gavaskar, L Sivaramakrishnan, Harsha Bhogle and company have become less of analysts and more of stooges. Retired players, apart from Bishen Singh Bedi and to an extent Rahul Dravid, are not far behind either. And to add insult to injury, the captain of the team seems to be in cahoots with a criminal. When a captain is accused of perjury to shield a criminal, would you feel like celebrating that team's success?
It is the responsibility of these people to restore the sanity and innocence, as we did not fall in love with the game because of the administrators. As Napolean has said, 'World suffers a lot. Not because of the violence of bad people but because of the silence of good people.' In such circumstances, the (once) respected people associated with the game ought to have raised their voice. When the situation demands a raging bull, a holy cow is useless.
Some might argue that it is easier said than done. However, Kishor Kumar did speak out against Indira Gandhi during emergency. Throughout that whole period, his songs were banned but he earned respect of millions. Even after so many decades, his act of valor is remembered fondly and proudly.
Now Srinivasan's dictatorship with BCCI has taken a jolt as he has asked to step down by the Supreme Court. But the way he has been going about his business, it is a question of 'when' rather than 'if'. No monopoly has lasted forever. Sun had to set on the British Empire and Adolf Hitler had to die a grotesque death.
However, the SC has erred in ordering Sunil Gavaskar to be Srinivasan's replacement. Gavaskar has been loyal to Srinivasan and after his interim period as BCCI chief ends; he would want to be among the commentators contracted by the BCCI. Therefore, those expecting Gavaskar to take firm steps are daydreaming to say the least.
SC made another error. It made a few proposals to the BCCI but did not order all of them on the next day. The SC ought to have barred Rajasthan Royals and Chennai Super Kings from partaking in IPL-7, a tournament that epitomizes a lot of the rot in BCCI.
However, all eyes are now on the hearing on 16th of April. It is all in the hands of Supreme Court, which is a tragedy in itself, to reinstate some trust of a hurt fan because the ship of self-regulation has already sailed.