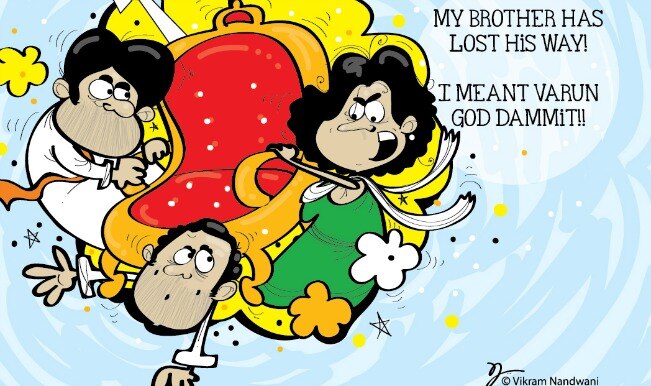 Congress party's reliance on the Nehru-Gandhi family, has received strong criticism from opposition parties throughout the 2014 Lok Sabha elections campaign. Both, the BJP and AAP have added a dissent to dynastical politics in their main campaign messages and deliberately chosen prime ministerial candidates of modest background.
Though it is the primary example of nepotism, the Nehru-Gandhi dynasty and its Congress party, are not the sole practitioners of dynastical politics: Political analyst Patrick French noted that two third of the Indian Parliament members had relatives involved in politics. He also noted that the younger members were the most likely to be relatives of former or active politicians in the country.
Demographics account a lot for the importance given to the 2014 Lok Sabha Elections: Over 150 million voters this year are first time voters aged between 18 and 23 years old. The overall proportion of young voters speaks more for itself: they account for half of the electorate this year which raises up to 814.5 millions of citizens called upon to exercise their franchise this year. Undisputedly, the opinion of the youth matters more than ever this year, which justifies the parties' strategy in targeting younger audiences through a massive resorting of social media. As such, the opinion of young voters on the Nehru-Gandhi family and the nepotism tendencies of Indian democracy are to be accounted for.
Where as Rahul Gandhi is considered a youth icon, the 43-year-old prime ministerial candidate has often been criticized for his poor achievements as chairperson of the Youth Congress. He failed at bringing up a strong message for young voters to identify themselves to, but most importantly failed to dissociate himself with the dynast image he inherited from. Although one could argue that criticism over dynastical politics in India is generational, the consequences of nepotism for the country's economy are something which the youth of India is also confronted to at a time of hardship in terms of unemployment.
Young Indians were born and brought up at a time when the Nehru-Gandhi dynasty's popularity was already on a decline. Instead, those young voters were brought up in a time of economic growth that attracted foreign investments, a time when India opened up to the world and took the position it has today. This youth is therefore more concerned with the country's upcoming challenges which lists from employment, equality of rights, empowerment and safety of women, governance transparency etc.
As shown by protests against rape, pro-LGBT rights or anti-corruption, the Indian youth as it is today seems also much more mobilized in politics: it is assertive and demanding for fast change.  This fast change appears for the youth, as unlikely to happen if the election is won by India's reigning dynasty, which has often been accused of turning India's democracy into a feudal system. For newer generations, the Gandhi name doesn't sound as it used to: the rallying behind this name today seems too old-fashion, as a trend for the youth to rally behind it as former generations have done in the past.