By Varad Sharma
Women have always been an important part of Indian politics, and their participation in public life goes back to pre-independence times. Their representation in the political institutions however has been far less compared to that of their male counterparts. In the current Parliament of India only 11 per cent of the seats are held by women representatives. As India gears up for its 16th parliamentary election, we hope that women's representation in the Lok Sabha increases. However what is clear the powerful role women leaders are expected to play pre and post elections.
Here is a look at the seven most powerful women in Indian politics today.
Jayalalithaa –Amma of Indian Politics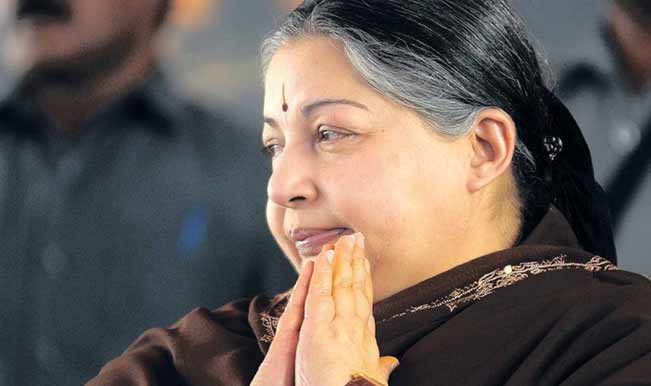 We have no hesitation in accepting that the most powerful woman in the country this election season is not Sonia Gandhi but Tamil Nadu Chief Minister Jayalalitha Jayaraman. From being a south Indian film star to a politician, Jayalalitha today has emerged as a key figure in the male-dominated political landscape of Tamil Nadu, and now has an important stake in the national politics. She has been the chief minister of the state since 2011. She took over as the head of the All India Anna Dravida Munnetra Kazhagam (AIADMK) party after the death of its founder MG Ramachandran. In spite of several corruption cases against her, Jayalalitha is going strong and is expected to emerge with the highest number of seats from Tamil Nadu. Both Narendra Modi-led National Democratic Alliance and Rahul Gandhi-led United Progressive Alliance would want her in their alliances but Amma is not giving any clue still. Meanwhile she is in talks with the second most powerful women in Indian politics today. Read about her next.
Mamata Banerjee – Dictator Didi
Mamata Banerjee is the current Chief Minister of West Bengal. She is popularly referred to as Didi, which means elder sister. After parting ways from Congress, she founded the All Indian Trinamool Congress (AITMC) party in 1997. Mamata Banerjee was India's first woman railway minister, and she demolished the left government in 2011 after its 34-year rule in West Bengal. While she lives austerely, she has been criticized for her dictatorial style of functioning, especially after becoming the chief minister of West Bengal state. She has switched sides by being part of both NDA as well as UPA governments at the centre. No formation in the centre can ignore her but nowadays she is talking only to Jayalalitha.
Mayawati – Behenji of self-adoration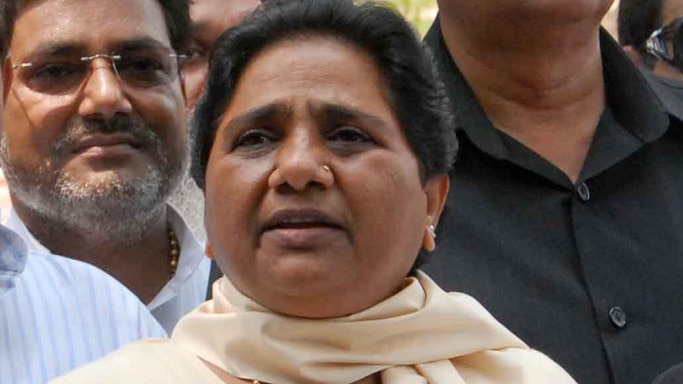 Mayawati heads the Bahujan Samaj Party (BSP) which claims to be the party of backward sections of society. She has been the Chief Minister of Uttar Pradesh four times. She has made an indelible impression on the politics of Uttar Pradesh. She is the prodigy of the Late Kanshi Ram, the founder of BSP. She has been embroiled in several corruption cases and controversies. Criticized for amassing huge personal wealth at the cost of the exchequer, her four-headed statues erected on her orders are unlikely to be forgotten anytime soon. Along with Jayalalitha and Mamata, she is seen as the first of the queens who could decide who occupies 7 Race course post elections.
Sonia Gandhi – Regnant Queen of India's Dynasty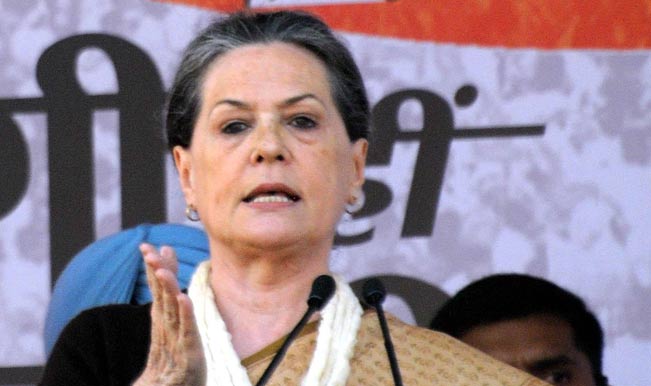 Born in Italy and now heading the oldest political party of the country, Sonia Gandhi is the most powerful women politician in present times. She has led the Congress party to success in two consecutive elections (2004 and 2009). She took over as the Congress party President in 1998 and she has never been far from controversies, whether to be questions over her eligibility to become India's Prime Minister because of her foreign roots, or association with Italian businessman Ottavio Quattrochi who was accused in the Bofors scam. Being the United Progressive Alliance (UPA) chairperson, she calls the shots in the Congress party, as well as in the government at the Centre. Her chairpersonship has led to a perceived dual authority structure in the government under Manmohan Singh. She has been pivotal in promoting Rahul Gandhi even though his engagement with the nation's politics hasn't been very impressive. She largely manages to stay away from the media as much as possible. Post the results, she might have to step in to stitch an alliance which Rahul Gandhi clearly doesnt seem capable of forming.
Sushma Swaraj – BJP's Bharatiya Nari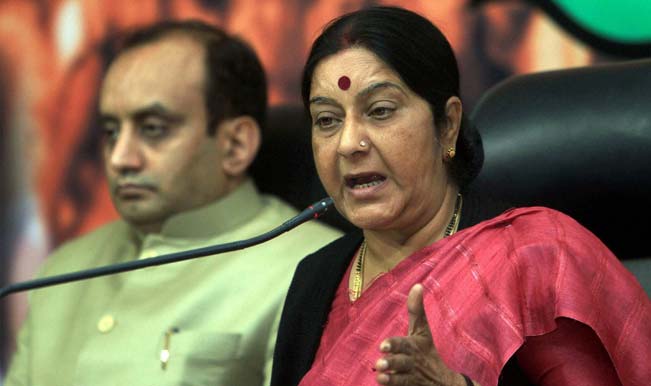 A lawyer by profession, Sushma Swaraj is the leader of the opposition in the 15th Lok Sabha. It is fair to say that she has emerged as the face of women in the Bharatiya Janata Party (BJP). She has been elected to the Parliament six times. She was a cabinet minister in the Atal Bihari Vajpayee led National Democratic Alliance (NDA) government. Unlike Sonia Gandhi, she is active in her engagement with the press and media. She is active on twitter as well. She has been a vocal critic of Sonia Gandhi due to her foreign origins. In 2004, she had vowed to shave her head if Sonia Gandhi were to become the Prime Minister of India. This election, though seen to have been sidelined due to rise of Modi, she is still expected to play a powerful opposition to the Modi lobby within BJP.
Vasundara Raje Scindia – Royalty of BJP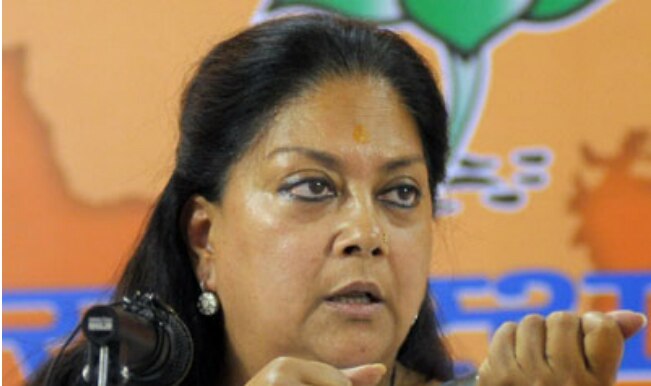 Hailing from the royal Scindia family of Gwalior, Vasundara Raje Scindia is the first woman Chief Minister of Rajasthan. She returned to power with a resounding majority in Rajasthan last year after ousting the Congress government led by Ashok Gehlot. Her previous stint as chief minister was from 2003 to 2008. Bharatiya Janata Party's thumping victory in last year's Rajasthan state assembly elections has brought back Vasundara Raje Scindia in limelight. She clearly aligned herself with the Modi camp within BJP. Denial of ticket to veteran BJP leader Jaswant Singh has only brought her nearer to the BJP Prime Ministerial candidate. Post elections, she is expected to play an important role in a Modi government.
Brinda Karat – The Lady on the Left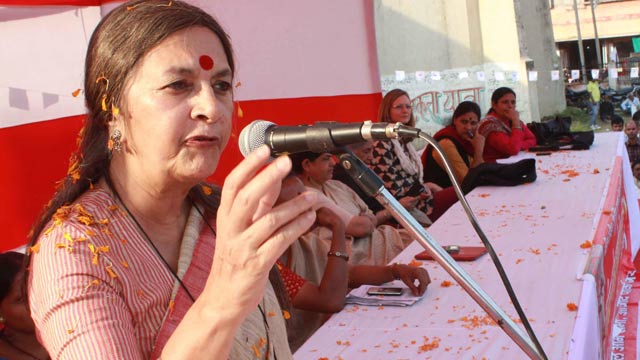 What Sushma Swaraj is to the BJP, Brinda Karat is to the Communist Party of India (Marxist). After quitting her job as an air-hostess with Air India in London, she joined CPI (M) in 1971 and is known to be a staunch communist. She fought for greater representation of women in her own party. She became the first woman member of the CPI (M) Politburo in 2005. Brinda Karat is the author of Survival and Emancipation: Notes from Indian Women's Struggles. Brinda is married to senior communist leader Prakash Karat who is currently the general secretary of CPI (M). Left parties might be out of the picture but can never to ruled out. In case of a fractured mandate, Left will play an important role and Mrs Karat a key interlocutor for the third front.
The author, Varad Sharma, is a writer/commentator. You can follow him on twitter @VaradSharma, or visit his blog at http://varadsharma.com/blog