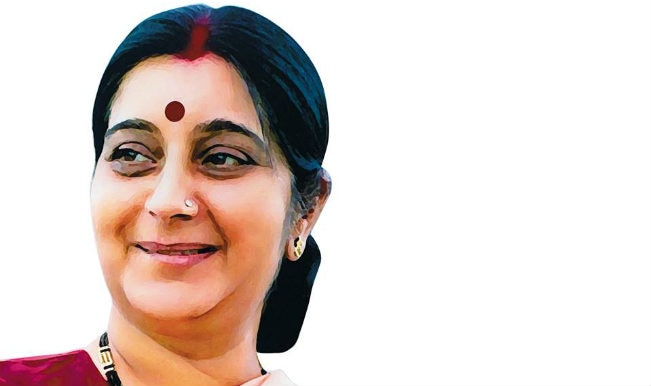 Bhartiya Janta Party's senior leader and opposition leader in Lok Sabha, Sushma Swaraj while addressing her first public meeting in Chandni Chowk in Delhi requested people to vote for a stable government instead of wasting vote on Aam Aadmi Party. Launching scathing attack on AAP Sushma Swaraj said, "Please don't waste your ballot by voting for AAP. Only BJP can give you a stable government."
Sushma Swaraj's argument for "stable government" is very important for the future of the country. It is very clear that people of the county have fed up with Congress party. There may and may not be a Modi wave but there is surely anti-Congress wave. Due to this BJP would have thought for winning Lok Sabha election with majority until AAP came into the battle. People may argue the AAP is an alternative of Congress and BJP. But the question remains is AAP in condition to form a stable government? NO.
Delhi assembly election and 49 days of government is a bitter experience for the people who claimed that AAP can form a stable government. After Delhi elections, BJP got 31 highest number of seat while Congress could secure only 8 seats. AAP emerged as a second largest party and gained 28 seats in their first assembly election. AAP giving a term of "minority government" formed the government with the support of Congress part. But what happened after that. Just after 49 days AAP leader and former Chief Minister of Delhi Arvind Kejriwal resigned from the post of CM and still Delhi is under president rule. Delhi elections have shown that how AAP snatched anti- Congress votes from BJP but again a coalition government could not survive for a long time.
The same case may happen in Lok Sabha if there would be a coalition government. According to latest survey done by AC Nielsen BJP led NDA would win 233 seats while Congress led UPA would get only 119. The poll also predicts that Congress would not be able to win more than 100 seats. Almost all exit polls have predicted that NDA would get seats around 235 but it's not enough. If BJP wants to form a government they must win 272 seats and it will only happen when they would be able to gather anti-Congress vote.
But apart from BJP, people of the country also need a stable government. Economy is in worst condition and only a strong and stable government can bring some change. Congress is surely not a choice of people. If people want a stable government they will have to vote for BJP of its align party because giving a chance to AAP or any third party may lead to a coalition government. And country cannot afford a repeat of what happened in Delhi.
Photo Credits: Sushma Swaraj Facebook Fan Page