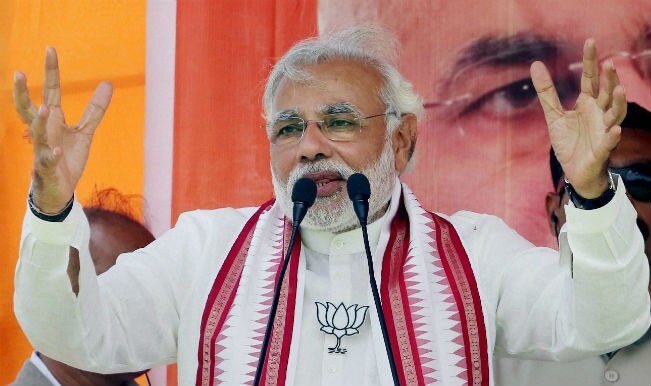 Bangalore, April 6: A section of Kannada writers, including two Jnanpith awardees, and BJP are crossing swords over Narendra Modi in the run-up to Lok Sabha polls that is also being marked by vicious rants among political leaders.
Touching the raw nerve of BJP, celebrated writers U R Ananthamurthy and Girish Karnad have come out with guns blazing on Modi.
Ananthamurthy has said BJP's prime ministerial candidate was a "threat to Indian civilisation and its pluralist culture" and had the demeanour of a "dictator". Karnad has been highly critical of Modi being "the single face and voice" of BJP.
Both Ananthamurthy and Karnad are well known for their ideological aversion to BJP and Sangh Parivar and have waded into controversies on many an occasion with their position.
Cut to the quick by their utterances, BJP has dubbed them as Congress "flatterers" like in the princely courts. "Every person has the right to support a party of his choice. But is it right on the part of the litterateurs to question the popularity of BJP's prime ministerial candidate and act like a shouting brigade," asked state BJP leader Suresh Kumar.
Hitting hard, former Chief Minister Jagadish Shettar accused some litterateurs of Leftist leanings and supporting Naxals and criminals, a remark that Ananthamurthy mocked at saying the BJP leader might have said so seeing his beard style.
Ananthamurthy had earlier stoked a controversy when he opposed Modi becoming prime minister. "I would not want to live in a country where Modi is the prime minister," the writer had said some months back, triggering angry reactions from BJP which said he was free to leave India.Some other writers such as Vasundhara Bhupathi, K Marulasidappa and G K Govind Rao have joined hands with Ananthamurthy and Karnad to come under the banner called "Samakaleena Vichara Vedike" (contemporary thinking forum) to oppose Modi and back Congress.Chief Minister Siddaramaiah has jumped to the support of the litterateurs, saying it was "height of stupidity" on the part of BJP leaders to expect them not to canvass for his party.Meanwhile, as the campaign gains momentum, the political discourse in the run-up to the elections has touched a new low with abusive remarks flying thick and fast among political rivals.Making a searing personal attack on former Prime Minister and JDS chief H D Deve Gowda, KPCC chief G Parameshwara has taunted him over his alleged remark in the past that he would consume poison if his party did not win Assembly elections."Just nine months back, the senior Gowda had said we (JDS) will come to power in Karnataka on our own. He had said that if we don't come to power on our own, I will consume poison and die. I am also waiting that he will take it today or tomorrow. He is not taking it," Parameshwara had said.
A day later after coming under attack for his remarks, Parameshwara, however, expressed regret, saying "….no I didn't mean that. I just made that statement very casually…but I didn't mean that he (Gowda) should take poison and die…."
Siddaramaiah, for whom the April 17 Lok Sabha polls are a major test to his popularity after becoming the Chief Minister in May last year, has been repeatedly targeting Modi in his campaign, calling him "a mass murderer" irrespective of the court pronouncements.
Taking note of Siddaramaiah's comments, the Election Commission, based on a BJP complaint, has issued notice to the Chief Minister for his derogatory remarks against Modi. The KPCC chief has also been slapped with notice for personal attack on Gowda.