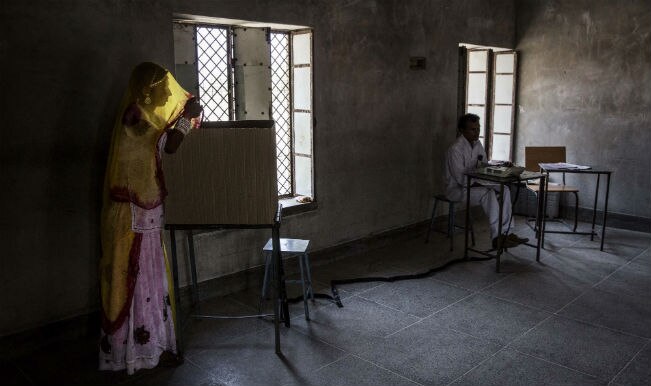 New Delhi, Apr 24: Voters have come out in "highest- ever" numbers to cast their votes in six phases in the 349 Lok Sabha constituencies in 24 states and union territories where elections were completed, the Election Commission said today.
"By this time, the national aggregate of turnout for all the elections held so far is 66 per cent as against 57.53 per cent for the same constituencies in 2009 Lok Sabha elections," Election Commission Director General Akshay Rout said.
"Of course, it is the highest ever", he told reporters reacting to a query. His statement indicates the 2014 Lok Sabha elections may witness the highest voter turn out if the trend continues.
He said a total of 35 crore voters have cast their votes in the 349 constituencies in this year's elections.
In 2009 Lok Sabha polls for these constituencies, the total votes which were cast were 21.49 crores.
Rout said the figures might change as repolls have been ordered in certain polling stations and postal ballots are not included and the figures will slightly increase.
In Assam, the turnout is 77.41 per cent, as against the 69.53 per cent in last Lok Sabha polls.
In Chhattisgarh, the average turnout in this election is 65 per cent. It was 55.28 per cent in 2009.
The average turnout in Jharkhand is 62.62 per cent and this is the highest ever, compared to 51.98 per cent in the last polls.
In Madhya Pradesh, the state average is 61 per cent. It is more than 10 per cent high compared to 51.16 per cent in last Lok Sabha polls. The state's highest is 61.74 per cent in 1998.
The turnout in Maharashtra is touching about 60 per cent.
In the last Lok Sabha poll, the figure was 50.71 per cent.
Elections completed in Rajasthan today and the state turnout average is 62.9 per cent as compared to 48.4 per cent in the last Lok Sabha polls.
In Tamil Nadu, it is 73 per cent this time as against 73.03 per cent in 2009.
Puducherry recorded 82 per cent polling this time, which is the highest in the UT as compared to 79.81 per cent in 2009 Lok Sabha elections.
In Odisha, 74.37 per cent of the voters cast their votes in this Lok Sabha elections as against 65.33 per cent in the last elections. It is all-time high.
Manipur has recorded the voter turn out of 80.1 per cent as against 77.14 per cent in the 2009 Lok Sabha polls.