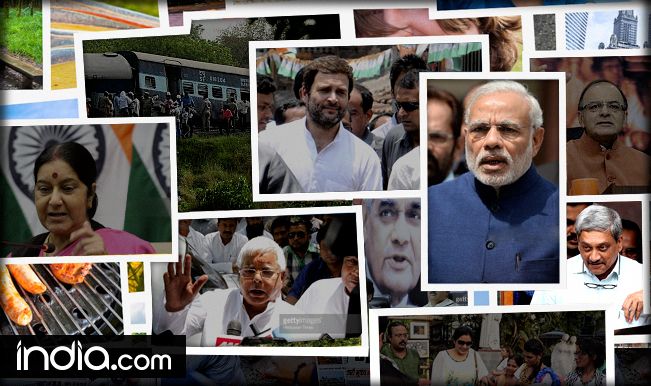 Video produced by Oijo
Jaswant Singh, 76, is one of our most senior politicians. Having contested his first election in 1967, he has gone on to hold the key ministries of Finance, External Affairs and Defence during the NDA regime. He was expelled from the BJP on March 23, 2014, following his decision to file a nomination to stand as an independent candidate from the Barmer Lok Sabha constituency after the party denied him a ticket for the same.
Excerpts from a long interview:
India-Pakistan relations are not limited to Indo-Punjab relations. You can do things in Jammu and Kashmir, you can do these things in Punjab, then why not in Rajasthan. This is the quietest border, there are no terrorists here.
I wanted to come back home and work from home or work for home. I owe this land, and this soil and this people, I owe then a great debt.
Darjeeling was already declared autonomous, large number of responsibilities of a state were with them and in no sense are the Gurkhas of Darjeeling geographically, socially, linguistically, they're not Bengal.  Earlier Bengal realises that, the better it is.
I was told, no, no you're the wrong caste, which is why you are not getting a ticket. This is absurd. My son contested this very constituency and won by a record margin of 2 lakh and 70 plus thousand. I've never fought an election on caste or community basis, how otherwise would I have won in Darjeeling?
Rajnath Singh of all people then explains to me that there are political reasons for what happened. So I asked him, do please tell me, it can't be a state secret. But he didn't. So here I am.
When I pointed out that the alternative against who I have to contest as an independent, is a Congress party discard, the retort was there was some 62 examples, some figure like that which is appalling. BJP has now landed in a devastatingly unreal situation.
In 2004 Chidambaram had come to meet me and said, look I really didn't expect us to win. I thought I'll have a seat and attend Parliament 2 days a week and  practise in the Supreme Court for the balance of the time.
You see, even in that short 6 year term in office, we got infected by what I call Raj Madh, the heady intoxication of office. It became as if office is our right, office is nobody's right.  The great French President Clemenceau, his statue is in a very central part of Paris, and on it is inscribed, what he said, 'The graveyards of the world are full of those who were thought indispensable to their own nations.' I think we Indians have to learn that.
2002 was a situation that demanded a true accounting of the self and there wasn't. We tended to think, "It's a bad dream. It'll go away." But in governance things don't go away.
Here, my folk and I, we find Delhi is such an irrelevance. God alone knows what they are talking about. It's truly astounding.
The RSS provides a spine of an organisation which is permanently there but there is another liability with it because where is the authority? And who is answerable? Where there is authority, the real authority, they are not answerable. There is another aspect of it, which is that the political input of thought should only be with the BJP because it is doing the political work and it has the experience. ..When the Peshwars began thinking, "Why are we advising? We can sit in office," then the confederacy began to collapse.
"My policy is very simple- grehanikitukiyameinaanaaurgaribke pet meindana." I don't believe much in the magic of GDP. I think that if there is no gross national contentment, then GDP is an absurd figure.
The Prime Minister Manmohan Singh, like most Prime Ministers do, he wanted to keep his grip on foreign policy and yet have SM Krishna. But foreign policy requires a lot of forethought. You should be reading, studying. Krishna was not inclined. He should not be chided or made fun of because he picked up a wrong piece of paper. That's alright. But what was the central purpose? …And my friend Salman Khurshid is a very affable man but sadly is not a very able man.
The two great errors that Pandit Nehru left us with are Jammu and Kashmir and Tibet and China. They afflict us. They've seized our maneuverability by both the feet and the throat.
The Hindi word for independent candidate is 'nirdaliya'. I prefer to call it 'swatantra'. I feel much freer, swatantra because I am free of the obligations of functioning within the confines of a party. Those confines are also mental and they restrain you from saying exactly what you want which I think is one of the deficiencies of our democracy. Subscription to a party is not a subscription to censorship on thought.
I finished my campaign this evening. So I was feeling very light. I thought I would go take a bucket bath and have a drink. I have said I would like a drink on purpose because there is a lot of hypocrisy that surrounds us on this subject of a drink.