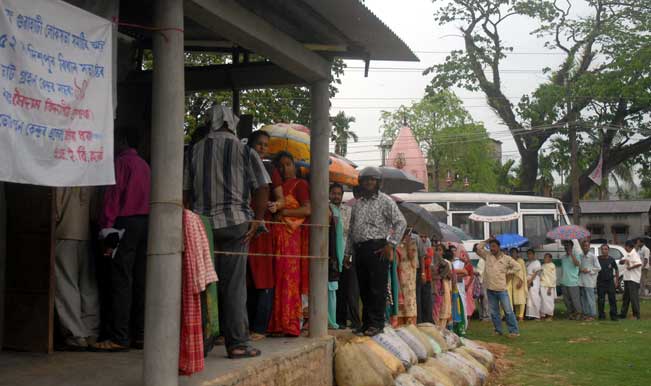 Guwahati, Apr 7: Polling began for the five Lok Sabha seats in Assam amidst tight security. The first round will decide electoral fortunes of 51 contestants, including two Union ministers. A total of 64,41,634 voters will exercise their franchise in the first round of 2014 Lok Sabha Elections.
The Congress, BJP, AIUDF, AGP, Trinamool Congress, AAP, SUCI, CPI-M, AIFB and SP are contesting in five constituencies of Tezpur, Koliabor, Jorhat, Dibrugarh and Lakhimpur in the Congress-ruled state in the first phase of poll.
Union ministers Ranee Narah and Paban Singh Ghatowar, former Union minister and sitting MP Bijoy Krishna Handique, Chief Minister Tarun Gogoi's son Gaurav Gogoi and Bhupen Kumar Bora from the Congress are among the 51 candidates.
Congress rebel Moni Kumar Subba, currently hospitalised in Delhi, is also contesting as an Independent candidate.
For BJP its unit president Sorbananda Sonowal and tea workers' leader Kamakhya Prasad Tasa who are in the fray, while Asom Gana Parishad's nominees are Arun Kumar Sarma, Pradip Hazarika and Joseph Toppo.
The electorate, which includes 31,20,067 women, will exercise their franchise in 8,588 polling stations.
Security measures have been tightened for the polls with additional companies of security forces, including CRPF, deployed in the five constituencies, besides two helicopters kept on stand by, official sources said.
In one of the most elaborate exercises in Assam, over 235 companies of security forces from both the state and the Centre have been deployed, they added.
For the first time in the Northeast region and the third time in the country after Kashmir and Bihar, all polling booths in the state have been declared smoking-free.
The next phase of the polls will be held on April 12 for three LS seats.