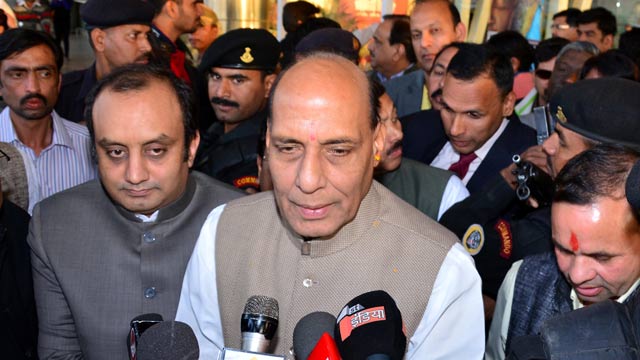 New Delhi, Mar.19: Bharatiya Janata Party (BJP) president Rajnath Singh welcomed veteran Congress Party leader Jagdambika Pal and Samajwadi Party (SP) candidate Raju Srivastava to his party on Wednesday, with less than a month to go for the general elections.
Describing both Pal as a leader of high political standing, Singh said that his decision to join the BJP, would go a long way in strengthening the party on the national stage. He said that both Pal and Srivastava have been given significant roles in the party.
Former Congress MP and Uttar Pradesh unit chief Jagdambika Pal had earlier this month resigned from the Lok Sabha as well as from the party, saying that the emerging Congress leadership did not need leaders like him. Pal, 63, has been a three-time legislator and minister in Uttar Pradesh.
Srivastava, a stand-up comedian of repute, had returned the Samajwadi Party Lok Sabha ticket to contest from Kanpur in Uttar Pradesh on March 11.
Srivastava was said to be unhappy with local SP leaders who had refused to promote him and help him expand base.
Party chief Mulayam Singh Yadav and Chief Minister Akhilesh Yadav are reported to have asked him to stay on, but he decided to quit and join the BJP.