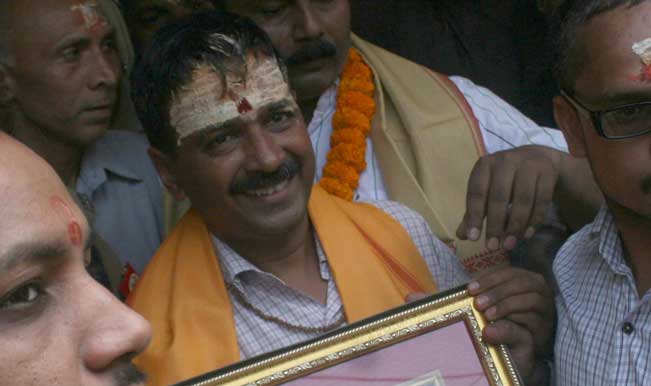 Every city in this country throws up an association or an image in the minds of people. Delhi is associated with politics. Mumbai with Bollywood. Kolkata is famous for its sweets. And when we talk about Varanasi, the first word that comes to mind is Holiness. The sacred river Ganga flows through it. Gautam Buddha gave his first oration at Sarnath, which is near Varanasi. Ustad Bismillah Khan played his eternal Shehnai here. It is said even the Pandavas visited the city after the Kurukshetra war.
However, with the impending Lok Sabha elections, this holy city is set to turn hostile in the next couple of months with Arvind Kejriwal courageously setting up a fascinating contest with BJP prime ministerial candidate Narendra Modi. Traditionally, it has been a race between four horses but Kejriwal's angry-young-man like entry has made it a five-horse-race with BJP, BSP, SP, and Congress being the other four.
Varanasi has always been within the comfort zone of BJP. They have not lost here after 1989, except in 2004. Moreover, it has a strong base in the city. K.B. Hegdewar, the founding leader of RSS, opened the second branch of RSS in Varanasi after commencing it in Nagpur in 1925. There are 18 per cent Brahmins, 19 per cent Kshatriyas, and 13 per cent Baniyas in the region of Purvanchal. This upper caste voter is inclined towards BJP. Therefore, these facts and figures put Modi firmly in the driver's seat.
However, 18 per cent Muslims, 20 per cent Dalits and a few OBCs give Kejriwal the outside chance of creating history in Varanasi. Even though BJP has triumphed here, their vote share has always been around 35 per cent. There has been a visible division of votes among main contenders. Last time around, BJP's Murli Manohar Joshi won by merely 17,211 votes, in a constituency of 16 lakh voters. Therefore, the contest is closer than it looks.
Congress has a presence but they have not found a robust leader in this region after Kamalapati Tripathi and, to an extent, Shyamlal Yadav. So the Congress voter, who had drifted away because of the absence of a powerful leader, might well vote for Kejriwal. He has hampered Congress in Delhi, and there is no reason why he cannot do it in Varanasi.
Modi, in his recent rally in Bihar, said that BJP used to be a predominantly Brahmin party but now it is a party of Dalits and OBCs. Moreover, Murli Manohar Joshi, a Brahmin, has been removed from Varanasi. This creates room for disillusionment among Brahmins of Varanasi. Therefore, if this voter drifts away from BJP, it will be a big blow.
Mayawati's BSP attracts the lower class, which has not yet been smitten by Modi. This class is silent during surveys but shows his power on the D-day. Probably that is why BSP ends up winning more seats than forecasted. In the last elections, BSP had a strong candidate in Mukhtar Ansari, who made life difficult for Joshi. This time though, they have given the ticket to Vijay Prakash Jaiswal, an upper class worker of the BSP. Therefore, there is every chance of BSP's voter shifting to Kejriwal, who seems to have struck a chord with the deprived. Even SP has put up a low profile candidate in Kailas Chaurasia. Maybe because of the challenge of Modi. But that again gives a ray of hope to Kejriwal.
Another trend, which has been observed across the country, is that the upper class voter turnout is less compared to the lower class. This definitely will not work for Modi and, if we turn the argument around, is good news for Kejriwal.
In addition to all these factors, the response to the rally and road show of Kejriwal suggested that it would be foolish to write him off. And that response is most likely to go north if he campaigns ferociously in the coming days. When Kejriwal decided to fight against Sheila Dixit, many termed it a 'political suicide'. Similar reactions have popped up after he decided to give Modi a headache. However, a battle between strong leaders is not unlikely to espouse a surprise.
Of course, everything has to fall in place for this underdog. The odds, as of now, are firmly stacked against him. And this poll is not over till the last vote is counted.